Standard Lease Agreement (SLA) for hiring of private building by the Central Govt. for office accommodation: Directorate of Estates OM
F. No. 16011/1/2011-Pol.III
Govt. of India
Ministry of Urban Development
Directorate of Estates
(Policy-III Section)
Nirman Bhawan, New Delhi
Dated the 18th Feb, 2016.
Office Memorandum
Subject: Standard Lease Agreement (SLA) for hiring of private building by the Central Govt. for office accommodation – Reg.
The undersigned is directed to refer to this Directorates OM No. 16011/1/2000-Pol.III, dated 3rd Sept, 2001 on the above subject. References are received from various Ministries / Departments regarding the applicability of SLA, especially the rental increment per annum of 8% (non-residential purpose) as laid down in para 3 of the said SLA, towards the public property to be hired by any central government ministries/departments on lease basis for their office requirement.'
2. In this regard, it is clarified that the SLA has been prescribed for the convenience of various central government Ministries/Departments to hire private property on lease basis for office purposes. As such, it is not applicable to public property. This Directorate has not devised any guidelines or SLA for hiring Public property by various Ministries! Departments for their office requirement. Similarly, the requirement of 'Rent Reasonableness Certificate from CPWD for fixing the rent in respect of public property has also not been prescribed by this Directorate.
3. Further, as per para 3 of SLA, the rate of rent agreed upon is liable to revision during the period of lease or renewal, if any, of the lease after the expiry of three years from the start of the lease or revision of the rent, provided that such revision shall not exceed 5% per annum (in case of residential accommodation) and 8% per annum (in case of non-residential accommodation) of the rent payable at the time of such revision. In case the owner of the property demanding more than 5% increase per annum (in case of residential accommodation) and 8% per annum (in case of non-residential accommodation), then the concerned department may decide whether to go for renewal as per the demand of owner of private preperty or new lease as per the fresh RRC of CPWD, whichever is less. Moreover. the Ministries/Departments have full powers of incurring expenditure on hiring of accommodation, keeping in view their own needs and availability of accommodation in the locality. The Ministries/Departments may negotiate and fix the rent at their end in consultation with their integrated Finance Division.
4. All the Ministries/Departments are also advised to decide the issue of hiring of private/public property on lease basis for their office requirement in consultation with their concerned Integral Finance Division (IFD) of the Ministries/Departments after duly taking into account the office space requirement as prescribed by this
Directorate vide OM No. 11015/1/98-Poll, dated 20.2.201
4 (available in this Directorates' website: estates.nic.in under 'Policy Order').
sd/-
(Swarnali Banerjee)
Deputy Director of Estates(Policy)
Source: www.estates.nic.in
[http://estates.nic.in/WriteReadData/dlpolicyorders/SLA%20for%20hiring%20of%20Private%20Building%20for%20Offices.pdf]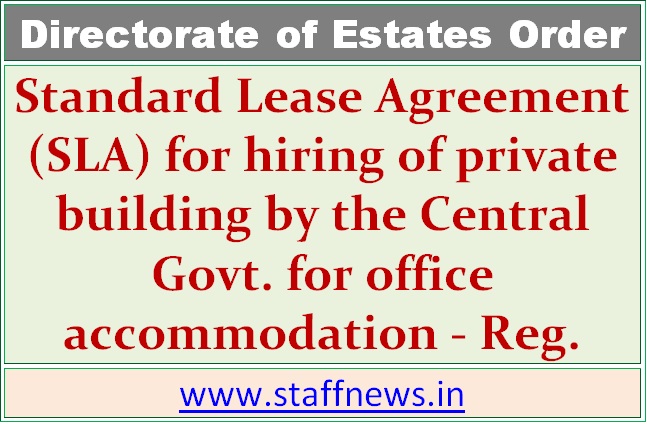 Stay connected with us via Facebook, Google+ or Email Subscription.
Subscribe to Central Government Employee News & Tools by Email [Click Here]
Follow us: Twitter [click here] | Facebook [click here] | Google+ [click here]
Admin