Modification in Discipline and Appeal Rules i.r.o. All India Services Officers: Rajya Sabha Q&A
GOVERNMENT OF INDIA
MINISTRY OF PERSONNEL,PUBLIC GRIEVANCES AND PENSIONS
RAJYA SABHA
STARRED QUESTION NO-27
ANSWERED ON-25.02.2016
Modification in Discipline and Appeal Rules
27 . Shri Bhupender Yadav
(a) whether Government is in the process of amending or modifying the Discipline and Appeal Rules that inter-alia regulate the suspension of All India Service Officers;
(b) if so, the background of the initiative along with the objective thereof; and
(c) the present status of the proposal and the time-frame contemplated for accomplishment of the proposed action?
ANSWER
Minister of State in the Ministry of Personnel, Public Grievances and Pensions and Minister of State in the Prime Minister's Office. (DR. JITENDRA SINGH)
(a) to (c): A Statement is laid on the Table of the House.
*****
STATEMENT REFFERD TO IN REPLY TO PARTS (a) TO (c) OF RAJYA SABHA STARRED QUESTION NO. 27 FOR 25.02.2016
The Central Government has, recently, amended the All India Services (Discipline and Appeal) Rules, 1969.
2. Taking into consideration the demands raised by various quarters including the service associations of the three All India Services (AIS) to protect honest and upright AIS Officers from unwarranted suspension, the Central Government undertook an exercise to amend the All India Services (Discipline & Appeal) Rules, 1969. This exercise was aimed at providing adequate safeguards against arbitrary use of executive power in cadre management of All India Service officers and especially against arbitrary suspension of AIS officers. Certain amendments were thereby proposed in the said rules, which were circulated to the State Governments and Cadre Controlling Authorities, seeking their views/comments. After examination of the comments so received, a draft amendment notification was prepared and placed on the website of this Department on 20.04.2015 for seeking further comments of the stake holders within 30 days, which was further extended for two weeks.
3. After consulting the stakeholders, a draft amendment notification was finalized and sent to Legislative Department for formal vetting on 03.09.2015. The amendments have finally been published in the Gazette of India, vide Gazette Notification No. G.S.R 1001(E) dated 23.12.2015.
4. Some of the salient features of the said amendments are given below:-
(a) Under the said amendments, the validity period of suspension has been reduced from 45 days to 30 days and in consultation with the Central Government, from 90 days to 60 days. The disciplinary proceedings have to be mandatorily initiated within the period not exceeding 60 days.
(b) Suspension of AIS officers shall be communicated to the Cadre Controlling authority in the Central Government within forty-eight hours along with the reasons or grounds of such suspension.
(c) The IAS officers with Central Government shall only be suspended with approval of Minister-in-charge, Department of Personnel & Training on the recommendations of the Central Review Committee as amended.
(d) Time frame for forwarding appeals to the appellate authority against the order of the competent authority as well as memorials have been fixed as 30 days.
******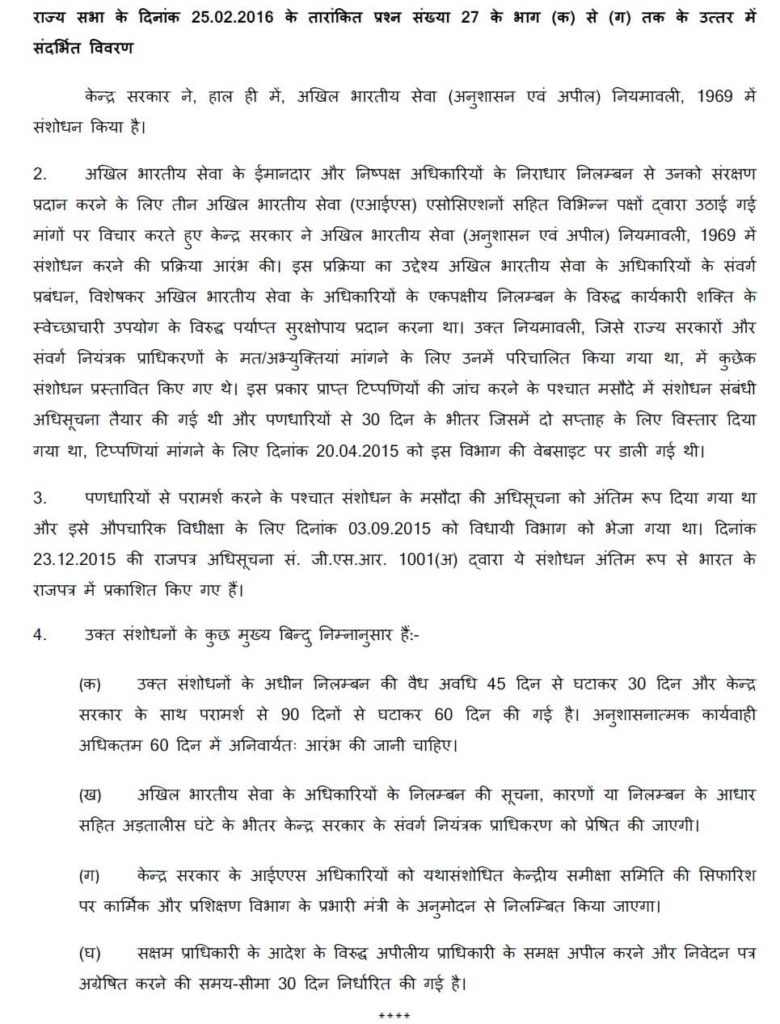 Stay connected with us via Facebook, Google+ or Email Subscription.
Subscribe to Central Government Employee News & Tools by Email [Click Here]
Follow us: Twitter [click here] | Facebook [click here] | Google+ [click here]
Admin