Procedure for dealing with the cases relating to unauthorized constructions/encroachments in Govt. accommodation – Advisory for allottees: Direcotrate of Estates OM
F. No. 12035/1/2015-Pol.III
Govt. of India
Ministry of Urban Development
Directorate of Estates
Nirman Bhawan, New Delhi-110011.
Dated the 15th February, 2016
OFFICE MEMORANDUM
Sub: Procedure for dealing with the cases relating to unauthorized constructions/ encroachments in Govt. accommodation – Advisory for allottees – reg.
The undersigned is directed to refer this Directorate's OM No. 22012/2/90-Pol.III(Pt.ll), dated 26th April 2005 on the above subject and to say that complaints are received from concerned Executive Engineers of CPWD regarding non-copperation of allottees during demolition of unauthorized construction/encroachment done by the allottees. Moreover, it is understood that the allottees are also bringing pressure from political leaders to avoid the demolition process. This act of allottees has been viewed seriously by the Competent Authority. It has now been decided that henceforth in case any allottee creates obstruction for CPWD authorities during carrying out of govt. duty of forceful demolition of unauthorized construction with/ without the help of police authorities, the allotment of accommodation may be taken up for cancellation by this Directorate and eviction proceedings will be initiated to evict the allottee as per the extant rules. Further, if any allottee brings political pressure in this regard, the same will be dealt with accordingly, as per the relevant provisions of the CCS Conduct Rules, 1964.
All the allottees are hereby advised to refrain from such activities of unauthorized construction/encroachment inside/outside of Govt. accommodation allotted to them, failing which necessary action as mentioned above will be taken against the allottees.
(Swarnali Banerjee)
Deputy Director of Estates(Policy)
Source: www.esatates.nic.in
[http://estates.nic.in/WriteReadData/dlpolicyorders/Procedure%20for%20dealing%20with%20unauthorized%20Occupants%20and%20encroachments.pdf]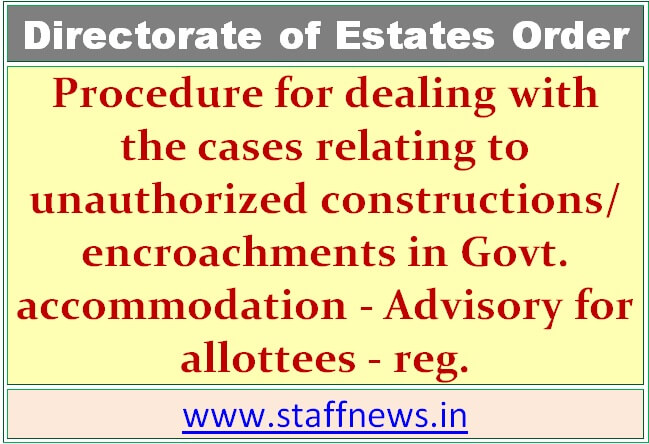 Stay connected with us via Facebook, Google+ or Email Subscription.
Subscribe to Central Government Employee News & Tools by Email [Click Here]
Follow us: Twitter [click here] | Facebook [click here] | Google+ [click here]
Admin