Wait for 7th Pay Commission Bonanza Gets a Little Longer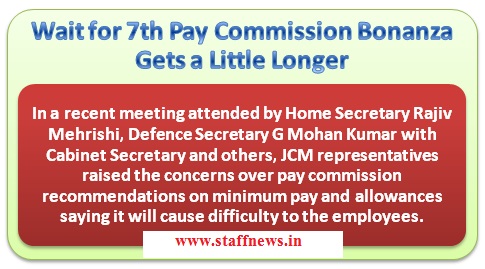 NEW DELHI: Central government employees have to wait a little longer for the 7th pay Commission bonanza announced in November last year, as the Empowered Committee of Secretaries (E-CoS) headed by Cabinet Secretary PK Sinha wants to address various concerns raised by the Joint Consultative Machinery (JCM) before taking a final call on the recommendations of the commission. The empowered committee with 12 secretaries on board was set up on January 27 to process the recommendations of the Seventh Central Pay Commission.
In a recent meeting attended by Home Secretary Rajiv Mehrishi, Defence Secretary G Mohan Kumar with Cabinet Secretary and others, JCM representatives raised the concerns over pay commission recommendations on minimum pay and allowances saying it will cause difficulty to the employees.
It is learnt that the Cabinet Secretary also asked the E-CoS members to hold interactions with their staff associations and other stakeholders to expedite the process.
"Cabinet Secretary assured that fair consideration will be given to all points brought out by JCM before taking a final view. He also said that E-CoS needs to examine the report of the commission in entirety as well as the issues raised by JCM in consultation with all other stakeholders. It may take some time to take some time to take a final call on the recommendations of the commission," a government note said.
The empowered committee was told by staff representatives that the minimum pay of Rs.18,000 pm recommended by the pay commission was on the lower side and needed to be revised upward by taking into account inflation and appropriately considering social obligations and housing of the staff.
A major concern has been raised with Cabinet Secretary on the new pension scheme saying that it should be done away with. The staff associations have argued that employees governed by the National Pension Scheme are deprived of family pension and do not have the provision of provident fund.
Stay connected with us via Facebook, Google+ or Email Subscription.
Subscribe to Central Government Employee News & Tools by Email [Click Here]
Follow us: Twitter [click here] | Facebook [click here] | Google+ [click here]
Admin