Interest Rates in ESI and EPF: Govt. reply in Lok Sabha
GOVERNMENT OF INDIA
MINISTRY OF LABOUR AND EMPLOYMENT
LOK SABHA
UNSTARRED QUESTION NO: 96
ANSWERED ON: 25.04.2016
Interest Rates in ESI and EPF
C.R. CHAUDHARY
NAGARAJAN P.
Will the Minister of
LABOUR AND EMPLOYMENT be pleased to state:-
(a)whether the Government proposes to increase the previously reduced interest rates on Employee"s State Insurance (ESI) and Employee"s Provident Fund (EPF);

(b)if so, the details thereof along with the action taken thereon; and
(c)the reaction of the Ministry of Finance thereon?
ANSWER
MINISTER OF STATE (IC) FOR LABOUR AND EMPLOYMENT
(SHRI BANDARU DATTATREYA)
(a) to (c): The contribution payable under Employees" State Insurance (ESI) Act, 1948 is not an interest-bearing deposit.
The Central Board of Trustees (CBT), Employees' Provident Fund (EPF) in its 211th meeting held on 16.02.2016 has proposed an interim rate of interest at 8.80 per cent to be credited to the accounts of Employees' Provident Fund (EPF) subscribers for the year 2015-16. Ministry of Finance has, however, ratified an interest rate of 8.70 per cent.
*******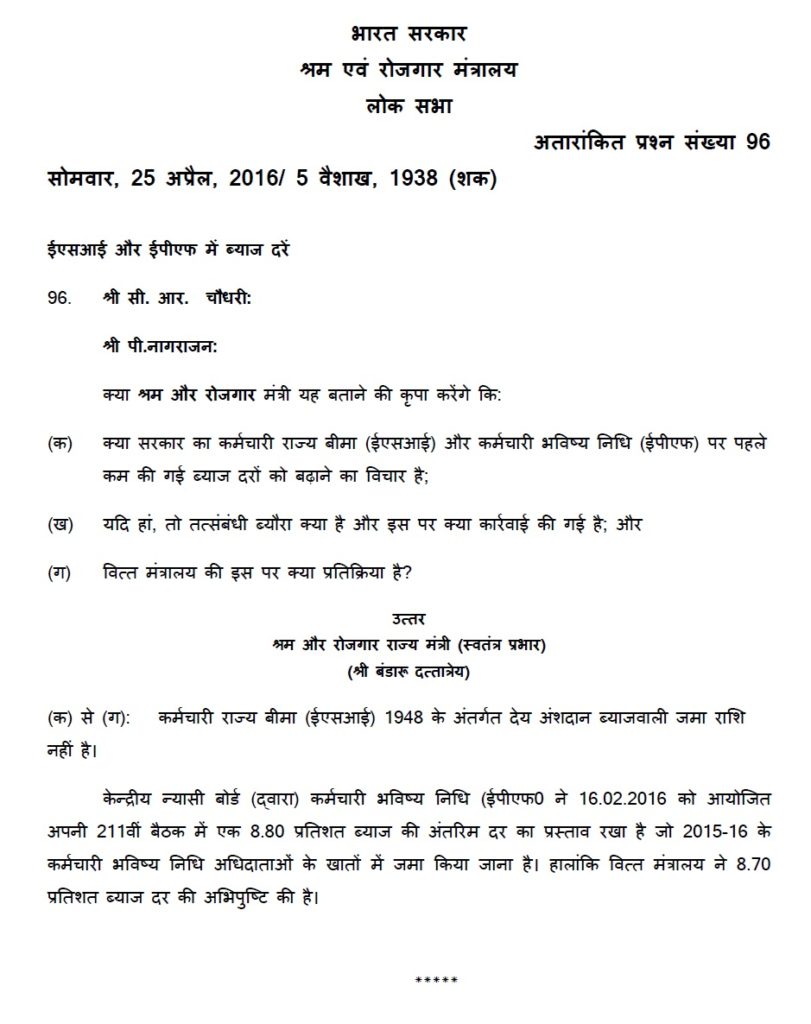 PDF/WORD(Hindi) PDF/WORD