Cashless treatment of ESIC Employees and cash compensation for loss of wages: Loksabha Q&A
GOVERNMENT OF INDIA
MINISTRY OF LABOUR AND EMPLOYMENT
LOK SABHA
UNSTARRED QUESTION NO: 875
ANSWERED ON: 21.11.2016
ESIC Employees
YOGI ADITYANATH
Y. S. AVINASH REDDY
KOTHA PRABHAKAR REDDY
Will the Minister of LABOUR AND EMPLOYMENT be pleased to state:-

(a) whether the Government has stopped/proposes to stop the cashless treatment of ESIC Employees;
(b)if so, the details thereof and the reasons therefor;
(c)the steps being taken by the government to alleviate problems of ESIC employees in this regard;
(d)whether the Health Insurance Scheme run by the Government provides guarantee of income which is necessary for livelihood and if so, the details thereof; and
(e)if not, whether the Government proposes to implement such schemes in future?
ANSWER
MINISTER OF STATE (IC) FOR LABOUR AND EMPLOYMENT (SHRI BANDARU DATTATREYA)
(a) & (c): No, Madam. The employees under ESI Scheme are eligible for cashless treatment in the ESI Hospitals and tie up hospitals. In case of emergency treatment outside the ESI network, the employees are reimbursed on CGHS rates or respective state rates.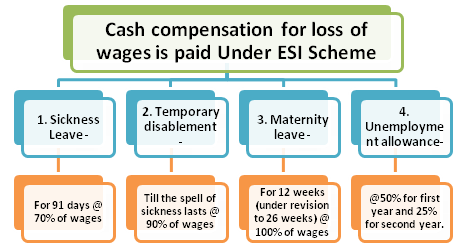 (b): Not applicable in view of answer at (a) above.
(d): Yes, Madam. Under ESI Scheme, cash compensation for loss of wages is paid as under:
1. Sickness Leave – For 91 days @ 70% of wages
2. Temporary disablement – Till the spell of sickness lasts @ 90% of wages
3. Maternity leave – For 12 weeks (under revision to 26 weeks) @ 100% of wages
4. Unemployment allowance- @50% for first year and 25% for second year.
(e): Not applicable.
Source: Loksabha.nic.in