Welfare Scheme for Army Porters: Loksabha Q&A
GOVERNMENT OF INDIA
MINISTRY OF DEFENCE
LOK SABHA
UNSTARRED QUESTION NO: 1831
ANSWERED ON: 10.03.2017
Welfare Scheme for Army Porters
GEETHA KOTHAPALLI
Will the Minister of DEFENCE be pleased to state:-
(a) whether the Government has worked out welfare scheme for Army porters working for the Army in high risk and active field areas such as Rajouri, Jammu and Poonch with better pay, medical facilities, enhanced compensation and a severance grant higher than the Rs.50,000; and
(b) if so, the details thereof and if not, the reasons therefor?
ANSWER
MINISTER OF STATE (DR. SUBHASH BHAMRE)
IN THE MINISTRY OF DEFENCE
(a) & (b): The porters are paid compensation as per the provisions of "Employees Compensation Act, 1923". The assistance is also provided to the porters and their families on case to case basis including compassionate medical cover for routine ailments. In addition, provision was made in December, 2015 for payment of honorarium of Rs.50,000/- to the porters at the time of severance of their service subject to fulfillment of certain conditions.
Source: Loksabha
SC orders welfare scheme for Army porters: The Hindu
The Supreme Court on Monday came to the aid of 12,000 civilian porters working for the Army in high-risk and active field areas such as Rajouri, Jammu and Poonch by directing the Centre to finalise a scheme providing them better pay, medical facilities, enhanced compensation and a severance grant higher than the Rs. 50,000 proposed by the government.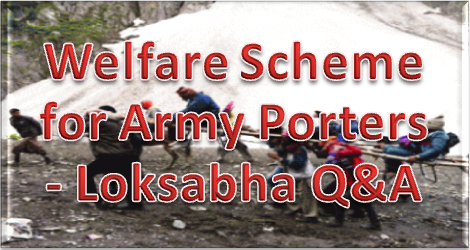 A Bench of Chief Justice T.S. Thakur and Justice A.M. Khanwilkar issued the directions, while noting that though the porters belong to the poorest strata of society and may not even possess educational qualifications, they provide valuable support to the Army and is an integral part of operations in border areas.
'Sure-footed ally'
"The value addition which they provide to the Indian Army in terms of their knowledge of conditions makes them a sure-footed ally in hostile conditions. To look at their work from a metro-centric lens is to miss the wood for the trees. They work, albeit as casual labour, for long years with little regard to safety," Chief Justice Thakur wrote in a judgment.
"Faced with disability, injury and many times death, their families have virtually no social security. Such a situation cannot be contemplated having regard to the mandate in Articles 14 and 16 of the Constitution," the apex court held in its 11-page verdict.
The court ordered that the scheme be finalised within three months, and disposed of the pleas moved by 29 porters seeking regularisation of their employment on minimum pay-scales considering their long years of service in high-altitude terrain.
[Source: The Hindu]