7th CPC Pay Fixation to Full Time Casual Labour: DoPT Clarification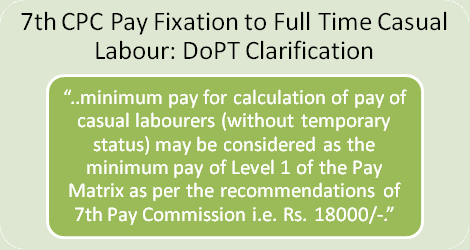 No. 7-10/2016-PCC
Government of India
Ministry of Communications
Department of Posts
Dak Bhawan, Sansad Marg,
New Delhi – 110001
Date: 31.03.2017
Office Memorandum
The undersigned is directed to refer this Directorate OM No. 2-53/2011-PCC dated 22.01.2015 vide which rate of remuneration payable " to Full Time Casual Labour (Other than Temporary Stat-us)/Part Time Casual Labour /workers engaged on contingency basis w.e.f. 01.01.2006 was issued. The para no.s 1 (i) & (ii) of ibid OM have been examined for revision of remuneration payable to these casual labourers w.e.f. 01.01.2016 in consultation with DOP&T and the DOP&T has clarified that
"..minimum pay for calculation of pay of casual labourers (without temporary status) may be considered as the minimum pay of Level 1 of the Pay Matrix as per the recommendations of 7th Pay Commission i.e. Rs. 18000/-."
2. It may be ensured that the concerned casual labourers are engaged in strict adherence to the DOP&T' OM No. 49019/1/95-Estt- (C) dated 14.06.2016 (copy attached).
This may be brought to the notice of all concerned.
(R.L. Patel)
Asstt. Director Gener (GDS/PCC)
Encl : As above
[Click here to view DOP&T' OM No. 49019/1/95-Estt- (C) dated 14.06.2016 ##eye##]

Source:
[PDF ##download##]