India Post Payment Bank IPPB – Schedule of Charges (Tariffs are excluding applicable taxes)
India Post Payment Bank
IPPB – Schedule of Charges
(Tariffs are excluding applicable taxes)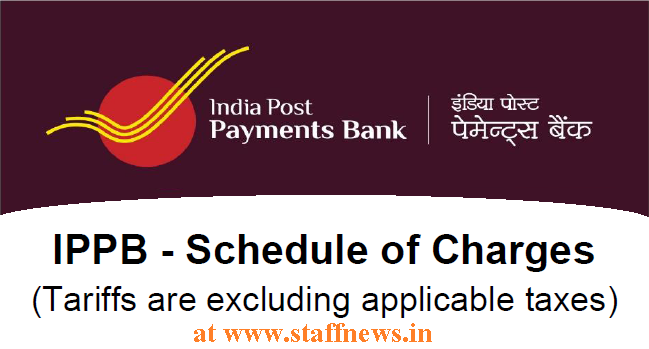 Savings account charges and features
Account variants->
Account feature

Regular Account –
Safal Account
Basic Savings Bank
Deposit Account
(BSBDA) –
Sugam Account
BSBDA – Small
Account –
Saral Account
Account
opening
Eligibility
Anybody 10 years
and above with KYC
Anybody 10 years
and above with KYC
Anybody 10 years
and above with
simplified KYC
Initial minimum deposit
requirement
INR 100
Nil
Nil
Minimum account balance
Nil
Nil
Nil
Maximum balance
INR 1,00,000
INR 1,00,000
INR 1,00,000
Nomination facility
Available
Available
Available
ATM/ Debit CArd
Free
Free
Free
Subsequent cards
INR 100
INR 100
INR 100
Annual maintenance
charges (from 2nd Year)
INR 100
NA
NA
PIN regeneration
INR 100
INR 50
INR 50

Servicing / Transaction
Minimum Quarterly Average
Balance (QAB)
Nil
Nil
Nil
Annual Interest Rate
5.5%
5.5%
5.5%
Quarterly Non maintenance
charges
NA
NA
NA
Interest payment
Quarterly
Quarterly
Quarterly
Mobile Alerts
Free
Free
Free
Monthly Account statement
(including duplicate
statements)
Free
Free
Free
Doorstep banking (Refer
Doorstep banking charges for
details)
INR 15-35
INR 15-35
INR 15-35
Interbank remittances
charges (IPPB Intrabank
remittance is free
2 remittances free
per month
For more details, see
Remittances charges
See Remittances
charges
See Remittances
charges
Branch
Banking
Free monthly customer
induced
transactions.Subsequently
@ INR 20 per transaction at
branch and Customer
Service Points
4 Free
4 Free
4 Free
Charge frequency
Monthly
Monthly
Monthly
ATM
monthly transactions
At India Post ATMs
All free
All free
All free
At Punjab National Bank's
ATMs
All free
All free
All free
At other bank's ATMs:
Metro
3 txns. free
3 txns. free
3 txns. free
At other bank's ATMs: Non-
Metro
5 txns. free
5 txns. free
5 txns. free
Additional transactions
at
Other Bank's ATMs
Financial: INR 20
Financial: INR 20
Financial: INR 20
Non-financial: INR 8
Non-financial: INR 8
Non-financial: INR 8
Maximum ATM withdrawal
per transaction
INR 10,000
INR 10,000
INR 10,000
per month in
aggregate by way of
withdrawals through
withdrawal slips at
Branch, ATM, POS
Outlets and
E-Commerce
Transactions
Maximum ATM withdrawal
per day
INR 25,000
INR 25,000
Maximum cumulative spend
at POS outlets and
ecommerce sites per day
INR 65,000
INR 65,000
Miscellaneous
Standing Instruction Charges
(IPPB to IPPB)
Free
Free
Free
Account status change
(Inactive to active and
dormant to active)
Free
Free
Free
Account Closure Charges
within 14 days of Account
Opening
Free
Free
Free
Account Closure within 6
months – Customer induced
INR 250
INR 250
INR 250
Balance certificate per
Instance
Free
Free
Free
ATM card/ KIT returned due
to wrong address
INR 100
INR 100
INR 100
Charges to be recovered from
IPPB customer in case of
cheque bounce
100% of clearing
charges
100% of clearing
charges
100% of clearing
charges
All transaction limits set in this Schedule of Charges are applicable subject to
the transaction amounts
being within regulatory limits for the specified period as prescribed by RBI.
Remittances Charges
These charges are applicable irrespective of the type of Savings account.
Mode of Outward
Remittance
Transaction size
Charges (excluding
service tax) at branch
and doorstep banking
Charges (excluding
service tax) for
mobile banking
NEFT
Up to INR 10,000 INR
2.5 per transaction
NA
INR 10,000 – INR 1
Lakh
INR 5 per transaction
NA
IMPS

Upto 1 INR Lakh

INR 5 per transaction
INR 4 per transaction
AEPS
Upto INR 10,000
(max. limit)
Free
NA
The charges are subject to any regulatory changes that might be intimated
from time to time



Doorstep Banking Charges
Service

Charges (INR)
Doorstep Banking –On-boarding

Customer On-
boarding
Free
Doorstep Banking –
Cash based
transactions
Cash Deposit and
Withdrawal
For cash transactions
< INR 2,001 : INR 15 per visit
INR 2001 – 5,000 : INR 25 per visit
INR 5,001 – 10,000 : INR 35 for per visit
Cash transactions above INR 10,000 will
not be offered at doorstep
Doorstep Banking – Non-cash
based Financial Transactions
Remittance
INR 10 per visit
Doorstep Banking –
Non-cash
based Non-Financial Transactions
Balance Enquiry
Free
Mini Statement

Notes:
1. The above charges are in addition to the transaction charges (e.g. charges
for AEPS are not included above). Please refer to the respective sections for
transaction charges.
2. The higher of financial and non-financial transaction charges for Doorstep
Banking will be levied in case a customer avails both the facilities in a single
visit (e.g. if a customer avails cash deposit of INR 10,000 and balance enquiry
in a single Doorstep visit) the customer will be charged INR 35 for that visit).
3. Only three transactions are allowed per visit. Fourth transaction would be
treated as another visit, and charges would apply accordingly.
Source: http://utilities.cept.gov.in/dop/pdfbind.ashx?id=2348