7th CPC for Pre 2016 Pension Revision: Option 1 DENIED – See the Difference Table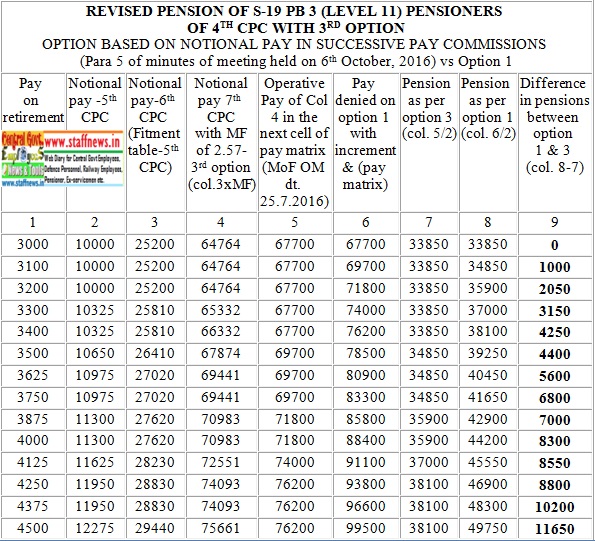 Option 1 recommended by 7th CPC for the revision of pension/family pension of Pre 2016 retirees DENIED
How, the battle is lost
One rank one pension denied
OPTION 1 recommended by 7th CPC for the revision of Pension/Family pension of pre-2016 Denied inspite of availability of service records of over 80% of old pensioners.
The alternative given vide OM dated 12.5.2017 though to some extent it will benefit a good % of old pensioners, it cannot make up the lifelong loss old pensioners will suffer due to denial of option 1. Ever since Honourable Supreme Court land mark judgement dated 17.12.2017 in UOI vs D S Nakra. In the hide and seek game with UOI for 100% parity between present & past Civil Pensioners 'Bharat Pensioners Samaj' had this time secured Penalty Corner but the Babu in DOP & PW foiled the final hit.
Why only DOP& PW, our own people must share the blame! The war veterans whom we had been supporting for years in their struggle for one rank one pension were the first to oppose 'Bharat Pensioners Samaj' demand for 100% parity/one rank one pension through electronic media as well as through representations (backed by their serving HODs) to GOI pleading that they only are entitled to this benefit and not the Civil pensioners
The final blow was delivered in the 7th meeting of feasibility committee on 17.10.2016 when as mentioned in Para 4 of the official minutes vide No. 38/37/2016-P&PW(A) GOI Ministry of Personnel, P.G. and Pensions -DOP &PW dated the 31st October, 2016 (placed here under). JCM (staff side) agreed with govt's alternative proposal.
What we will lose
REVISED. PENSION OF S-19 PB 3 (LEVEL 11)
PENSIONERS
OF 4TH CPC WITH 3RD OPTION

OPTION BASED ON NOTIONAL PAY IN SUCCESSIVE PAY COMMISSIONS

(Para 5
of minutes of meeting held on 6th October, 2016) vs Option 1

Pay
on
retirement
Notional
pay -5th
CPC
Notional
pay-6th
CPC
(Fitment
table-5th

CPC)
Notional
pay 7th
CPC
with MF
of 2.57-
3rd
option
(col.3xMF)
Operative
Pay of Col
4 in the
next cell of
pay matrix
(MoF OM
dt.
25.7.2016)
Pay
denied on
option 1
with
increment
& (pay
matrix)
Pension
as per
option 3
(col. 5/2)
Pension
as per
option 1
(col. 6/2)
Difference
in pensions
between
option
1 & 3
(col. 8-7)

1
2
3
4
5
6
7
8
9
3000
10000
25200
64764
67700
67700
33850
33850
0
3100
10000
25200
64764
67700
69700
33850
34850
1000
3200
10000
25200
64764
67700
71800
33850
35900
2050
3300
10325
25810
65332
67700
74000
33850
37000
3150
3400
10325
25810
66332
67700
76200
33850
38100
4250
3500
10650
26410
67874
69700
78500
34850
39250
4400
3625
10975
27020
69441
69700
80900
34850
40450
5600
3750
10975
27020
69441
69700
83300
34850
41650
6800
3875
11300
27620
70983
71800
85800
35900
42900
7000
4000
11300
27620
70983
71800
88400
35900
44200
8300
4125
11625
28230
72551
74000
91100
37000
45550
8550
4250
11950
28830
74093
76200
93800
38100
46900
8800
4375
11950
28830
74093
76200
96600
38100
48300
10200
4500
12275
29440
75661
76200
99500
38100
49750
11650
Source: Bharat Pensioner Samaj