7th Pay Commission: Employees union body meets Cabinet to assure high allowance
The government on Thursday assured employee unions body that the demands for the arrears on higher allowances under 7th Pay Commission will be met soon, a media report said.
National Joint Council of Action (NJCA) held a meeting with Cabinet Secretary P K Sinha to discuss the demand on arrears on higher allowance from January 2016, which is when the 7th Pay Commission was implemented.
NJCA is a joint body of unions representing central government employees.
The report on higher allowance is examined by the Department of Expenditure. The report will be placed before Empowered Committee of Secretaries (E-CoS). E-CoS is headed by Sinha.
As per the report by India.com, NJCA chief Shiv Gopal Mishra told the media, that the body has conveyed various concerns to Sinha. Moreover, calling it as "due right", Mishra said that the central employees should get the amount pending from January 2016.
During the meet, Mishra urged Sinha to implement the Committee on allowance's report on higher allowance without any more delay. On April 27, Finance Secretary Ashok Lavasa led committee had submitted the report on higher allowance to Finance Ministry. However, the Ministry is yet approve the recommendations placed by Lavasa panel.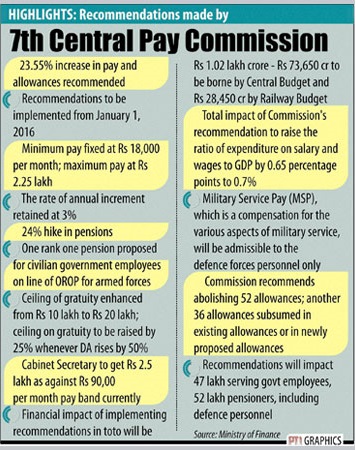 Yesterday, NJCA demanded that the issues related to minimum wages, rise in salary, hike in pensions on line of One Rank One Pension, fitment factor and various others under 7th Pay Commission, should be consider.
According to the report, quoting Mishra, it said, "He (Sinha) said our concerns would be considered. It may take time. We told him – how long should the employees wait? They have been waiting now for more than 10 months."
The 7th CPC had also demanded that of a total of 196 Allowances, 52 be abolished altogether and 36 be abolished as separate identities by subsuming them in another allowance.
Read at: Zee News