ECHS Order 2017: Empanelment of Hospital/Nursing Homes and Diagnostic Centres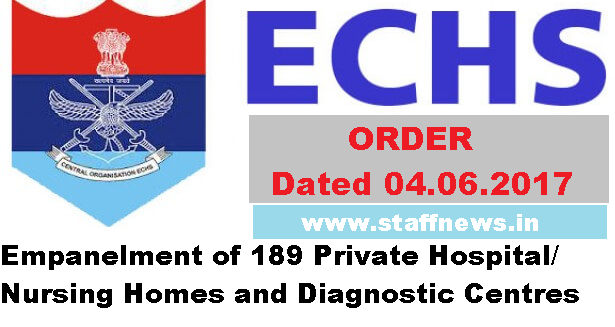 Central Organisation, ECHS
Adjutant General's Branch
Ministry of Defence (Army)
B/49771/AG/ECHS/Emp
04 Jun 2017

IHQ of MoD (Navy)/Dir ECHS (N)
Air HQ (VB)/DPS
HQ Southern Command (A/ECHS)
HO Eastern Command (A/ECHS)
HQ Western Command (A/ECHS)
HQ Central Command (A/ECHS)
HO Northern Command (A/ECHS)
HO South Western Command (A/ECHS)
HQ Andaman & Nicobar Command (A/ECHS)
All Regional Centre ECHS
EMPANELMENT OF HOSPITALS/NURSING HOMES AND DIAGNOSTIC CENTRES

1. Refer Govt of India, Min of Def letter No 228(03)/2017-WE/D(Res-I) dated 02 Jun 2017 (Copy enclosed and softcopy is also uploaded in ECHS website on (www.echs.gov.in).
2. Regional Centres will initiate action to complete the formalities required for empanelling hospitals approved for empanelment vide letter under reference. A Memorandum of Agreement (MoA) will be signed with each of the Hospital by the Director, Regional Centre ECHS concerned. The MoA will be made on Rs 100/- (Rupees one hundred only) non judicial stamp paper and will be valid for two years from the date of signing of the agreement. The payment for the stamp paper will be made by the empanelled facility. The following documents will be attached to MoA as Annexures:-
(a) Health facilities for which recognised. (Copy of Annexure of Govt letter pertaining to hosp).

(b) Negotiated Rates (only one rate per code No. as applicable to the medical facility will be mentioned and negotiated rated would be lower than CGHS rates).

3. Rates applicable will be as per prevalent CGHS rates/negotiated/existing hospitals rates whichever is lower (to be indicated by asterix).


Disposal of Application Forms and MoA


4. Application forms in respect of the Hospitals approved for empanelment by DoESW of MoD will be returned by the Central Organisation, ECHS to the Regional Centres concerned from where they originated.

5. The application forms will be stored in safe custody of Regional Centres. The application form will NOT be destroyed for two years after termination of the period of validity of the MoA.
6. The original and duplicate copies of MoA will be retained by the Regional Centres and the empanelled facility respectively. Additional photocopies of MoA alongwith Annexures including rates will be fonNarded/distributed as under:-

(a) Central Organisation ECHS.
(b) Concerned Area / Sub Area / Independent Sub Area.

(c) Concerned SEMOs.

(d) Concerned Polyclinics.

(e) Concerned CDAs.

Referrals

7. Formal referrals to empanelled facilities as per laid down procedures can commence after signing of the MoA.

Encls As above
No. 228(03)/2017-WE/D(Res-1)
Dept of Ex-Servicemen Welfare
New Delhi the 2nd June, 2017
The Managing Director
Central Organisation, ECHS
Maude Line, Delhi Cantt
Subiect :- EMPANELMENT OF HOSPITALS/ NURSING HOMES AND DIAGNOSTIC CENTRES FOR ECHS

1. I am directed to state that in terms of the provisions of Govt of India, Ministry of Defence letter No. 22B(04)/2010/US(WE)D(Res) dated 18 Feb 2011 and 22B(02)/2013/US(WE)D(Res) dated 18 Oct 2013, it has now been decided by the 10th Screening Committee for empanelment of Medical facilities with ECHS in its meeting held on 10 Mar 2017 under the chairmanship of MD ECHS to empanel 189 Private Hospitals/Nursing Homes and Diagnostic Laboratories for different specialities and procedures as per the list attached in the Annexure:-
Ser

City

Name of Hospitals
Annexure No

1
Ajmer
Mittel Hospital & Research Centre
1
2
Ahmed nagar
Swasthya Hospital Medical Research Centre
2
3
Allahabad
Divine Touch Dental Hospital & Research Centre
3
4
Allahabad
DRS Hospital
3
5
Alwar
Thareja Nursing Home
4
6
Ambala City
Mehndi Ratta Hospital
5
7
Ambala City
NP Singh Hospital
5
8
Ambala City
Bansal Eye Hospital
5
9
Amritsar
Amandeep Hospital
6
10
Amritsar
IVY Health and Life Sciences Pvt Ltd
6
11
Amritsar
Life Kare Hospital (A Unit of Kantha Health Care Pvt Ltd)
7
12
Amritsar
The Corporate Hospital
7
13
Amritsar
Ohri Hospital
8
14
Amritsar
Gupta Multispecialty Hospital
8
15
Amritsar
Dr. Punj's Artemis Hospital
8
16
Amritsar
Holy Heart Hospital & Super Speciality Centre
9
17
Amritsar
Dhaliwal Hospital
9
18
Amritsar
AP Hospital
9
19
Amritsar
Mrs Khusbir Kalra's Memorial Hospita
10
20
Ayathil
Meditrina Hospital Pvt Ltd (Unit of Meditrina Hospital
11
21
Bahadurgarh
JJ Institute of Medical Sciences Pvt Ltd
12
22
Bakloh Gantt
Swami Shree Hari Giri Hospital Cum Research Centre
13
23
Bangalore
Nethradhama Superspeciality Eye Hospital (A Unit of Nethradhama
Hospitals Pvt Ltd)
14
24
Bangalore
Strand Center for Genomics and Personalized medicine Unit of
Strand Life Sciences Pvt Ltd)
14
25
Bangalore
Retina Institute of Karnataka
14
26
Bangalore
Health Care Global Speciality Centre (A Unit of Healthcare
Global Enterprises Pvt Ltd)
15
27
Bangalore
Narayana Multi Speciality Hospital
15
28
Bangalore
Fortis Hospital Ltd
16
29
Bangalore
The Eye Foundation (A Unit of Eye Foundation Ltd)
17
30
Bangalore
Narayana Nethralaya
17
31
Bangalore
Aesthetic Dental Clinic
17
32
Bengaluru
Vikram Hospital (Bengaluru) Pvt Ltd
18
33
Bengaluru
Dharma Kidney Care & Research Pvt Ltd
18
34
Indiranagar, Bangalore
Nethradhama Super Specialty Eye Hospital (A Unit of Nethradhama
Hospital (P) Ltd)
19
35
Rajaji Nagar, Bangalore
Nethradhama Super Specialty Eye Hospital (A Unit of Nethradhama
Hospital (P) Ltd)
20
36
Barrackpore
Barrackpur City Hospital Pvt Ltd
21
37
Batala
Jyoti Parkash Eye Care Centre
22
38
Bathinda
Delhi Heart Institute & multispecialty Hospital
23
39
Bhiwani
Triveni Dental Clinic & Implant Centre
24
40
Bhiwani
Sharma Hospital
24
41
Bhopal
Chirayu Medical College & Hospital
25
42
Bhopal
Prakash Eye Care & Laser Centre
26
43
Bhopal
Bansal Hospital
26
44
Bhubaneshwar
Hi-Tech Medical College and Hospital
27
45
Bongiagaon
Lower Assam Hospital & Research Centre
28
46
Budhlada
Smt Satya Devi Memorial Gupta Hospital
29
47
Bulandshahr
Ojas Eye Care
30
48
Bulandshahr
Rana Hospital (A Unit of Rana Healthcare Pvt Ltd)
31
49
Chandigarh
Eden Critical Care Hospital Ltd
32
50
Charkhi Dadri
Krishna Hospital
32
51
Chennai
Aarthi Scans Private Limited
33
52
Chennai
Sugam Hospital
33
53
Chennai
Dr. Gupta's Dental Specialities Centre
34
54
Chennai
DRR Eye Care & Oculoplasty Hospital
34
55
Dehradun
Krishna Medical Centre (A Unit of Krishna Memorial Medical
& Healthcare Centre Pvt Ltd)
35
56
Delhi
Krystal MRI Scan and Diagnostic Centre (A Unit of Kukreja
Diagnostic Pvt Ltd)
36
57
' Delhi
Tirath Ram Shah Charitable Hospital
36
58
Delhi
Panchsheel Hospital Pvt Ltd
37
59
Delhi
NKS Hospital (A Unit of Bram Health Care Pvt Ltd)
37
60
Delhi
Sunder La] Jain Charitable Hospital
37
61
Delhi
Jain Dental Centre
38
62
Delhi
Indraprastha Apollo Hospitals (A Unit of Indraprastha Medical
Corporation Ltd)
39
63
Delhi
Balaji Dental Care
40
64
Delhi
Rescue Hospitals India Pvt Ltd
40
65
Shalimar Bagh, Delhi
RVS Eye Centre
41
66
New Delhi
Mahajan Imaging Centre (A Unit of Mahajan Imaging Pvt Ltd)
42
67
New Delhi
Health Plus Diagnostic & Imaging Centre (A Unit of Sanghi
Medical Centre Pvt Ltd)
42
68
New Delhi
Sri Balaji Action Medical Institute
43
69
New Delhi
Cygnus Orthocare Hospital
44
70
New Delhi
Suraksha Diagnostics Pvt Ltd
44
71
New Delhi
JA Aneja Multispeciality Dental Centre
44
72
New Delhi
T-32 Dental Clinic
45
73
New Delhi
Dr Aggarwal's Eye Clinic
45
74
New Delhi
Mittel Dental & Polyclinic
45
75
New Delhi
Hamdard Imaging Centre, HAH Centenary Hospital
45
76
New Delhi
Indian Spinal Injuries Centre
46
77
Janakpuri, New Delhi
Suraksha Diagnostic Pvt Ltd,
47
78
Preet Vihar, New Delhi
New Delhi Centre for Sight Ltd
48
79
Preet Vihar, New Delhi
Dr, Anand's Imaging & Neurological Research Centre
48
80
Paschim Vihar, New Delhi
Delhi Dental Hub
49
81
Vasant Vihar, New Delhi
Crystal Dental Centre (Unit of Crystal Dental Care Pvt Ltd)
50
82
Vikaspuri, New Delhi
New Delhi Centre for Sight Ltd
51
83
Safdarjung, New Delhi
New Delhi Centre For Sight Ltd
52
84
Rajouri Garden, New Delhi
New Delhi Centre for Sight Ltd
53
85
Erode
Kalyani Kidney Care Centre
54
86
Fatehgarh Sahib
Rana Nursing Home
55
87
Ghaziabad
Columbia Asia Hospital (Unit of Columbia Asia Hosilals Pvt Ltd
56
88
Ghaziabad
Om Eye and Gynae Centre
56
89
Greater Noida
Yatharth Wellness Hospital & Trauma Centre
57
90
Guntur
Lalitha Super Specialities Hospital Pvt Ltd
58
91
Guntur
Dr Ramesh Cardiac and Multispeciality Hospitals Pvt Ltd
59
92
Gurgaon
Metro Hospital and Heart Institute (A Unit of Umkal Healthcare
Pvt Ltd
60
93
Gurgaon
Columbia Asia Hospital (A Unit of Columbia Aisa Hospital Pvt
Ltd
61
94
Gurgaon
Unique Dental Clinic
62
95
Gurgaon
Aarvy Hospityal
62
96
Guwahati
Sri Sankaradeva Nethralaya
63
97
Hisar
Aastha Hospital
64
98
Hisar
Sparsh Hospital and Trauma Centre
64
99
Hoshiarpur
IVY Healthcare Infrastructure Private Limited
65
100
Hoshiarpur
Shivam Hospital
66
101
Hoshiarpur
Swami Premanand Charitable Hospital
67
102
Hyderabad
Sai Sanjeevini Hospital (A Unit of Singapanga Health Care India
Pvt Ltd
68
103
Indore
Medanta Super Speciality Hospital (a Unit of Global Health Pvt
Ltd)
69
104
Indore
Shalby Hospital
69
105
Jabalpur
Shalby Hospitals (Unit of Shalby Ltd)
70
106
Jagadhari
Kapil Hospital
71
107
Jaipur
Siddharth CT Scan & Imaging Centre
72
108
Jaipur
Indowestern Brain & Spine Hospital
72
109
Jaipur
CBL Memorial Holy Family Hospital
72
110
Jaipur
Anupam Eye Hospital & Research Centre Pvt Ltd
73
111
Jaipur
Rungta Hospital
73
112
Jalandhar
Kidney Hospital and Lifeline Medical Institutions
74
113
Jalandhar
Joshi Super Speciality & Multi Speciality Hospital
75
114
Jalandhar
Duggal Eye Hospital
75
115
Jalandhar City
Amar Hospital
76
116
Jalandhar City
Ashoka Neuro-Psychiatric Hospital and Deaddiction Centre
76
117
Jalgaon
Khadke Hospital & Healthcare Pvt Ltd
77
118
Jewar Banger
Kailash Hospital(A unit of Uma Medicare Ltd)
78
119
Jhajjar
Oscar Super Speciality Hospital and Trauma Centre Pvt Ltd
79
120
Jhansi
Jhansi Orthopaedic Hospital & Research Centre
80
121
Kanpur
Krishna Super Speciality Hospital (A Unit of Gita Health Care
(P) Ltd)
81
122
Kolkata
Western Diagnostic Centre
82
123
Kotkapura
Singla Eye Hospital
83
124
Kotkapura
Rajan Hospitai and Heart Centre
83
125
Kozhencherry
Poyanil Hospital
84
126
Kurukshetra
Agarwal Nursing Home
85
127
Kurukshetra
Cygnus Hospital
85
128
Latur
Shri Venkatesh Eye Institute
86
129
Lucknow
Divya Jyoti Netralaya Pvt Ltd
87
130
Lucknow
Sun Eye Hospital & Laser Centre Pvt Ltd
87
131
Ludhiana
Christian Medical College and Hospital
88
132
Ludhiana
Bassi Nursing Home Pvt Ltd
89
133
Madurai
Vadamalayan Hospital Pvt Ltd
90
134
Madurai
Velammal Medical College Hospital & Research Institute
91
135
Madurai
BGM Hospital
91
136
Mahendergarh
Savitri Devi Eye Hospital
92
137
Mangalore
Father Muller Medical College Hospital (A Unit of Father Muller
Charitable Institutions),
93
138
Mansa
Ku!want Nursing Home & Endoscopic Surgical Centre
94
139
Moga
Savera Eye Hospital (A Unit of Sant Netralya Pvt Ltd)
95
140
Moga
Moga Medicity Hospital (A Unit of Moga Medicity Pvt Ltd)
95
141
Mohali
Amer Hospital
96
142
Mohali
Indus Hygiea (A Unit of Indus Specialty Health)
96
143
Mohali
Heaithsure Multispeciaiity Hospital (A unit of Saraswati
Education Society)
97
144
Mohri
Adesh Hospital and Medical College
98
145
Morena
Agrawal Dental Clinic
99
146
Mysore
Apollo BGS Hospitals (A Unit of Apollo Hospitals Enterprise
Ltd)
100
147
Mysore
Columbia Asia Hospital (A Unit of Columbia Asia Pvt Ltd)
101
148
Narnaul
Krishna Eye Hospital
102
149
Nawanshahr
Hi-Tech Eye Hospital and Phaco Centre
103
150
Noida
Bhardwaj Hospital (A Unit of Bhardwaj Nursing & Maternity
Home Pvt Ltd)
104
151
Noida
I Care Eye Hospital & Post Graduate Institute (A unit of
Ishwar Charitable Trust)
105
152
Noida
Shivalik Medical Centre Pvt Ltd
105
153
Palakkad
PK Das Institute of Medical Sciences
106
154
Palampur
Karan Hospital
107
155
Panchkula
Wings Hospital & Heart Centre (A Unit of R.A. Health Care)
108
156
Panipat
Park Hospital (A Unit of Medicity India Pvt Ltd)
109
157
Panipat
IBM Hospital and Trauma Centre (A unit of Gaurav Hospital Pvt
Ltd)
110
158
Panipat
Gupta Eye Hospital (A unit of Gupta Eye Hospital LLP)
110
159
Pathanamthitta
MGM Muthoot Medical Centre Pvt Ltd
111
160
Pathankot
Dr Om Parkash Eye Institute Pvt Ltd
112
161
Patna
Jeevak Heart Hospital & Research Institute (A Unit of
Jeevak Heart Hospital & Research Institute Pvt Ltd)
113
162
Patna
Drishti Eye Care & Research Centre
113
163
Pilibhit
Kaushalya Devi Eye Institute
114
164
Pune
Gadkari Eye Centre
115
165
Viman Nagar, Pune
Dr Lal PathLabs Ltd
116
166
Raipur
Mittal Institute of Medical Science
117
167
Rampur
Narayan Hospital and Trauma Centre
118
168
Rohtak
Nirvana Diagnostic Centre
119
169
Rohtak
Shivam Liver and Gastro Superspeciality Hospital
119
170
Rohtak
MR Memorial Navjeevan Hospital
119
171
Ropar
Gurdev Hospital
120
172
Sahabad
Sidharth Hospital
121
173
Sangrur
Singla Surgical Hospital
122
174
Sangrur
Dr Paramjit Eye Care Centre
122
175
Satna
MP Birla Hospital & Priyamvada Birla Cancer Research
Institute
123
176
Sikar
Tibra Hospital
124
177
Solan
Maharishi Markandeshwar Medical College and Hospital
125
178
Solapur
Ashwini Sahakari Rugnalaya Sanshodhan Kentra Niyamat
126
179
Solapur
Joag Netra Rugnalay Eye Donation and Keratoplasty Centre
127
180
Sonepat
Arya Eye Hospital
128
181
Sonipat
FIMS (Frank Institute of Medical Sciences)
128
182
Sujanpur
Puri Hospital
129
183
Sultanpur Lodhi
Chawla Dental and Laboratory
130
184
Tadepalii
Manipal Super Speciality Hospital (Unit of Manipal Health
Enterprises Pvt Ltd)
131
185
Thiruvalla
Believers Church Medical College Hospital
132
186
Thodupuzha
Chazhikattu Hospitals Pvt Ltd
133
187
Tirupati
Sree Ramadevi Multi Super Speciality Hospital
134
188
Varanasi
ASG Hospital Pvt Ltd
135
189
Villupuram
ES Hospital (A Unit of Santha Medical Foundation)
136

2. All the terms and conditions including fixation of rates payable to empanelled hospitals will be regulated under Govt of lndia, Ministry of Defence letter No228(O4)/2010/US(WE)/D(Res) dated 18 Feb 2011 and amended from time to time.
3. The rates for ECHS Hospital/Nursing Home, Dental Centres and Diagnostic Centres as approved by the Empowered Committee will be as per CGHS rates and will be notified by the Director, Regional Centre ECHS to all concerned including Polyclinics, SEMDs, CDA/PCDA and Central Organisation ECHS.
4. Empanelment of CGHS empanelled hospitals is subject to the hospital providing proof of its being a CG HS empanelled facility as on the date of signing MoA with ECHS.
5. CGHS empanelled medical facilities will be empanelled with ECHS for the period for which the facilities hold valid MoA with CGHS. The MoA will be extendable once CGHS renew the MoA with the medical facilities.
6. NABH accredited medical facilities will be empanelled with ECHS for the period of validity of NABH certificate and the MoA will be renewed once the medical facility is issued revalidation/renewed NABH certificate.
7. This issues with the concurrence of Ministry of Defence (Finance) vide their U.O. No. 34(05)/2010 dated 2.6.2017.
sd/-
(AK Khan)
Under Secretary to the Govt of India