Non implementation of 7th CPC for Pensioners of Autonomous bodies: Reply to a Grievance by Ministry of Commerce and Industry
No.5/3/2017-Plant-D
Government of India
Ministry of Commerce and Industry
Department of Commerce
Udyog Bhawan, New Delhi
Dated: 02.06.2017
To,
Shri MR. Sudharshan,
222, 9th Main Road,
Sri Venkataramana Swamy Temple Street,
Srinagara- 560050,
Karnataka.
E-mail: [email protected]
Subject: Grievance Registration "No. DOPPW/E/2017/08318 dated 25.05.2017 regarding "Non implementation of 7th CPC for Pensioners of autonomous bodies".
Sir,
With reference to the above mentioned subject, it is informed that the proposal of extension of the revised payscale of 7th CPC to the employees of autonomous bodies is under consideration of Finance Division, Department of Commerce. The benefits of 7th CPC and enhanced Dearness Relief to the pensioners will be considered after finalization of the pay scales of the employees of the Autonomous Bodies in accordance with 7th CPC.
Yours faithfully,
(M.S. Banerjee)
Under Secretary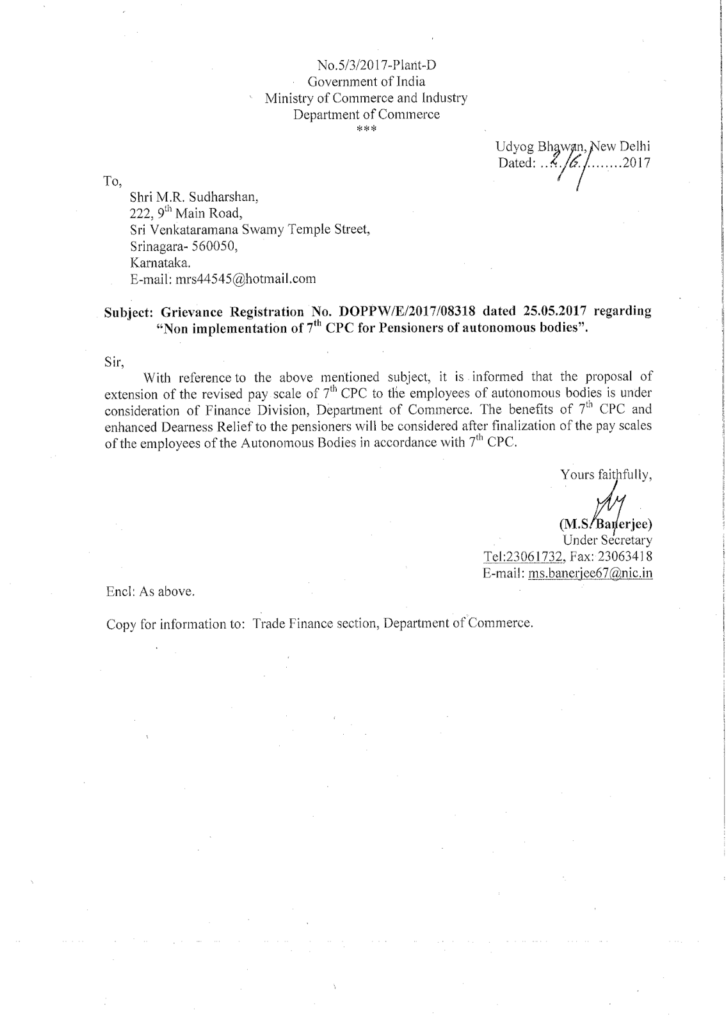 Source: www.irtsa.net