COMPILATION OF 
OF F.R. AND S R.
PART – I
Ministry of Personnel, Public Grievances and Pension
(Department of Personnel and Training)
Government of India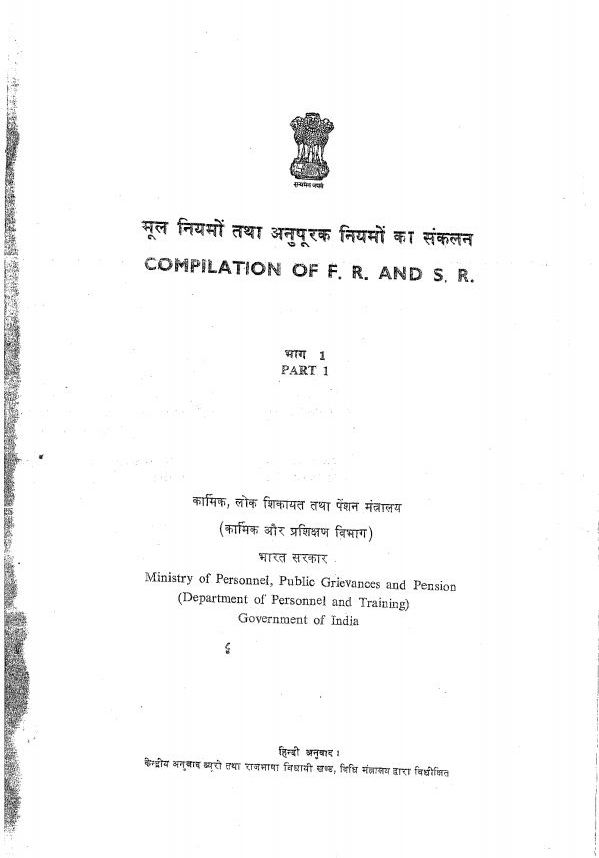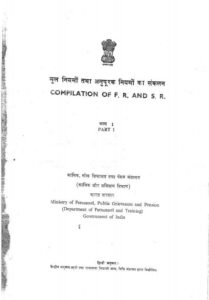 PREFACE
An up-todate edition of the Fundamental Rules and the Supplementary Rules has been a long felt need. The last official compilation of the Rules had been issued by the Accountant General, Posts & Telegraphs, in 1974. It is in this background that present volume is being brought out. Opportunity has been taken to make it a digital edition.
In addition to the basic rutes, the more important of the decisions of the Government and audit instructions having wide application have been incorporated below the relevant rules.
It is hoped that this compilation will be found useful to persons dealing with establishment matters.
Any errors or omissions which may be found in this compilation may be brought to the notice of the Department of Personnel & Training.
 MANISH BABEL
Secretary, Deptt. of Personnel & Training.
New DELHI
CONTENTS
FUNDAMENTAL RULES
PART I
Chapter
I. Extent of application
II. Definitions . . , ; . . . , . , .
PART II
III. General conditions of service
PART III
IV. Pay
V. Additions to pay
VI. Combination of appointments
VII. Deputation out of India
VIII. Dismissal, removal and suspension
IX. Retirement
PART IV
X. Leave (Not printed)
XI, Joining Time
PART V
XI. Foreign service
XI. Service under Local Funds
SUPPLEMENTARY RULES
PART I—GENERAL
Division
I. See Part II of this Compilation
II, See Part Il of this Compilation
III. Medical certificate of fitness on first entry into Government Sei vice (F.R. 10) .
PART II—ADDITIONS TO PAY
IV. Drawing of compensatory allowances (F. Rs. 44 and 93)
V. Fees (F.Rs 46-A and 47)
TRAVELLING ALLOWANCES
VII. See (Part II of this Compilation
PART III-—RECORDS OF SERVICE
VII, Gazetted and non-gazetted Government servants [F.R,. 74(a) (iv)! , . .
PART IV—LEAVE
VIII  to  XXI  Not printed
PART V—JOINING TIME 
XII, Not printed.
XXIII. Deleted. 502 :
PART VI—FOREIGN SERVICE
XXIV, Interest on overdue contributions [F.R. 119 (b)]
XXIV-A. Travelling Allowance.
PART VII—DELEGATIONS
XXV, Delegations of powers (F. Rs, 4,6 and 7)
PART VIII-GOVERNMENT RESIDENCES
XXVI Allotment of residences. (FR.45)
XXVI-A to XXVI-G. Not printed.
XXXVI. Licence Fee of Government Residences (FUR. 45-A)
XXVIII Licence Fee of Government Residences (FR. 45-B)
APPENDICES
1. Orders issued by the President under Rule.114
2. Orders issued under ER. 116 & 117—Rates of contribution payable on account of pension and leave salary during active foreign service.
3. Delegations made under Fundamental Rule 6
4. Authorities which exercise the powers of a competent authority under the various
Supplementary Rules.
5. Joining Time-Cantral Civil Services (Joining Time Rules 1979)
6. Incentives under UWindi Teaching Scheme
INDEX