Procedure for opting CGHS Scheme by BSNL Pensioners
BHARAT SANCHAR NIGAM LIMITED
(A Govt. of India Enterprise)
Admn. Section
Corporate Office
Bharat Sanchar Bhawan
New Delhi – 110001
No. BSNL/Admn.I/15-3/2017(i)
Dated : 17 May, 2017
To
The Secretary BSNL/PSUs,
Bharat Pensioners' Samaj,
C-11, Suvarnadham Avenue,
Opp. Sunda rvan Flats, Ra nip, Ahmedabad – 382480
Subject : Request to define procedure for opting CGHS Scheme by BSNL Pensioners.
I am directed to refer to your letter No. BPS/BDPA(I)/CGHS/Procedure/2017 dated 03.02.2017 on the above subject.
CGHS facility is extended by Ministry of, Health & Family Welfare. For availing the facility, the formalities as prescribed by the CGHS authorities which are as under are to be followed
The prescribed form may be filled and the authorities after verifying the form will indicate the amount to be deposited as onetime payment.
On depositing the amount they will issue index card and on the basis, the retirees who opt for CGHS facility will avail the facility.
Thereafter by submitting a copy of index card and proof of surrendering BNLMRS card to BSNL authorities, onetime payment will be reimbursed by BSNL.
(RAJ KUMAR)
Assistant General Manager (Admn-III)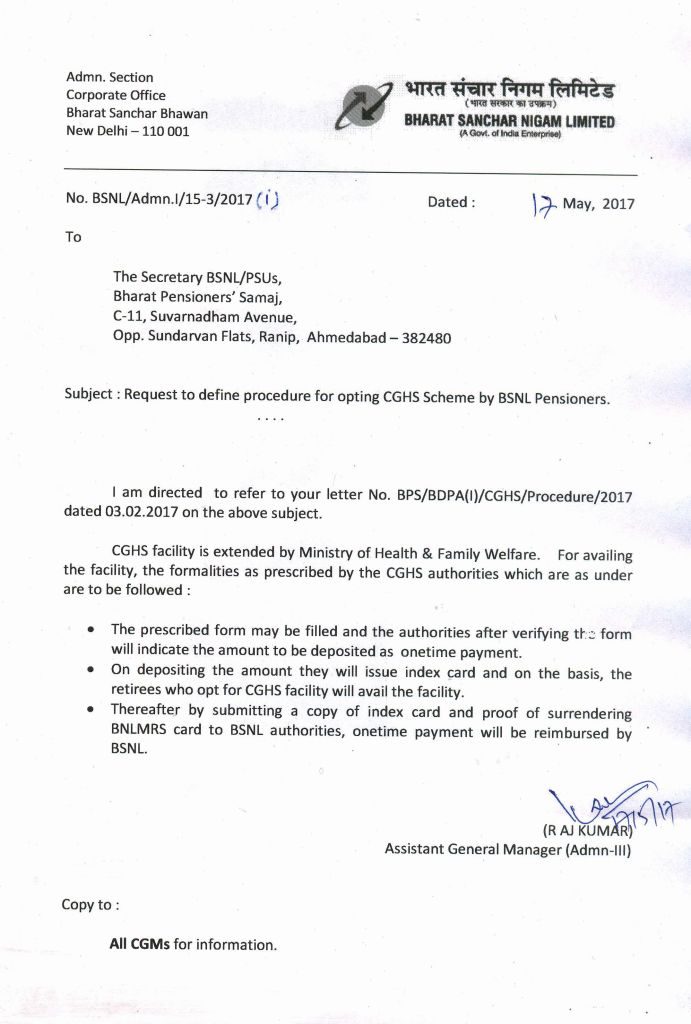 Source: http://www.intranet.bsnl.co.in/retired/circulars/procedure%20for%20opting%20CGHS%20scheme.pdf