7th CPC Pay Fixation Example 18 for Option w.e.f. 01-01-2016
i.ro Maj Gen subsequently promoted to Lt Gen/HAG: PCDA(O)

PCDA(O) has issued the example for the fixation of pay for the rank of Maj Gen
subsequently promoted to Lt Gen/HAG opting to 7th CPC Pay structure by option 1
i.e. with effect from 01.01.2016
EXAMPLE FOR THE RANK OF Maj Gen SUBSEQUENTLY PROMOTED TO Lt Gen/HAG OPTING TO
7th CPC WEF 01/01/2016.
18
Fixation factor, Emoluments
Option 1 wef 01/01/2016
Sr. No.
Details
Date
Rate of Pay
Total
Emoluments after multiplying by 2.57
Level of Pay Matrix
Fixation of Pay
1.
Fixation of Pay
01/01/2016
67000 + 10000
77000
197890
14
199600
2.
Increment
01/07/2016
14
205600
3
Prom to Lt. Gen
01/08/2016
On promotion, add one increment in level 14 and corresponding cell in level 15
of Def. Pay Matrix
15
217600
4.
Increment
01/07/2017
15
224100 (Maximum)
Disclaimer

"Examples of options on the PCDA
(O) website are only informative and
indicative in nature and cannot be
claimed / quoted as an authority for any Pay anomaly in future and also not for financial implication, in future. Army Officers will be solely and
wholly responsible for the option exercised. The option once exercised will be
final. The Form of Option can be uploaded by an officer only once,
on the PCDA(O) website".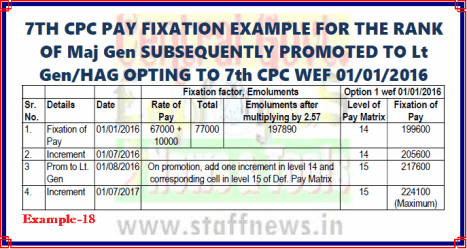 Click the link given below to see list of all examples:


7th CPC Pay Fixation as per Option from 01.01.2016, Date of Promotion/Increment – 23 Examples by PCDA(O)