Important: 7th CPC Children Education Allowance Clarification – DOP
F.No.33-03/2017-PAP
Government of India
Ministry of Communications
Department of Posts
(Establishment Division/P.A.P. Section)
Dak Bhawan, Sansad Marg,
New Delhi – 110001
Dated 27 Apr, 2018
To
All Heads of Circles.
Sub: Clarification on Children Education Allowance.
I am directed to refer to Ministry of Personnel & Training O.M. No.A-27012/02/2017-Estt.(AL) dated 31st October 2017 on the above subject, number of references have been received on payment of Children Education Allowance on the instruction received vide above letter u/r,
2. Ministry of Personnel & Training issued orders vide O.M.No.A.27012/02/2017-Estt.(AL) dated 31st October 2017 is unambiguours and clearly spells out the procedures as well as the conditions attached to drawal of Children Education Allowance and Hostel Subsidy.
2. O.M.No. dated 31.10.2017 clearly mentioned that the rest of the conditions will be the same as stipulated vide O.M.No.12011/04/2008-Estt.(AL) dated 11.09.2008.
3. O.M.No.A-27012/02/2017-Estt(AL) dated 16.08.2017 which had instructions issued in supersession of DoPT OM No. dated 28.04.2014 clearly states that the fixed amount for reimbursement of Children Education Allowance will be Rs.2250/- and also says that, a Certificate form the head of Institution, where the ward of Government employees studies will be sufficient for this purpose. The Certificate should confirm that the Child studied in the school during the previous academic year.
This if for kind information and further necessary action in this regard.
sd/-
(K.V.Vijayakumar)
Assistant Director General (Estt)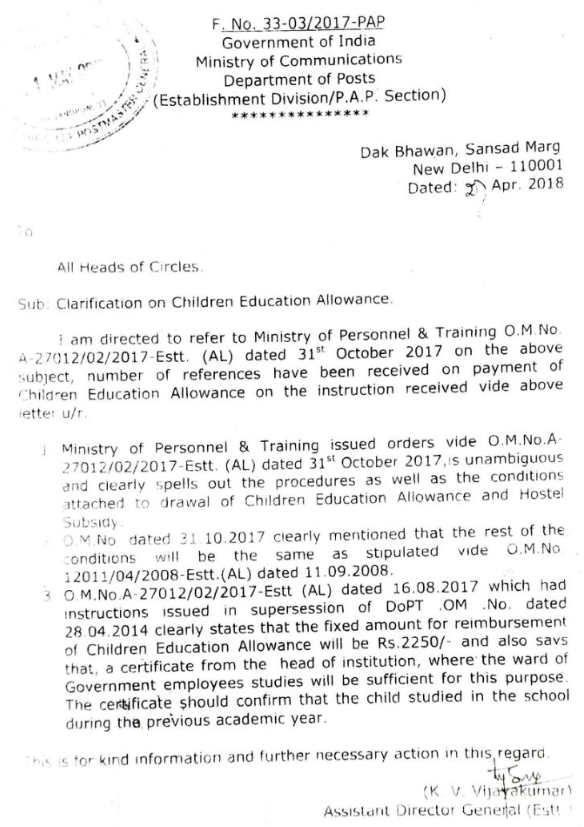 Source: FNPO