Half day Holiday on 17th August 2018 – Demise of Shri Atal Bihari Vajpayee, Former Prime Minister of India: DoPT Order
MOST IMMEDIATE
F. No. 12/2/2007-JCA2
Government of India
Ministry of Personnel Public Grievances and Pensions
Department of Personnel and Training
JCA Section
North Block, New Delhi
Dated the 16th August, 2018
OFFICE MEMORANDUM
Subject: Half day holiday on 17th August, 2018 – Demise of Shri Atal Bihari Vajpayee, Former Prime Minister of India.
It has been decided that there will be half-day holiday in the afternoon of 17th August, 2018 in all Central Government Offices and CPSUs throughout the country to enable the people to attend the State Funeral which will take place at "Smriti Sthal", New Delhi/ pay homage to former Prime Minister Late Shri Atal Bihari Vajpayee.
2. All Ministries/ Departments may bring the above decision to the notice of all concerned.
Sd/-
(Juglal Singh)
Deputy Secretary to the Government of India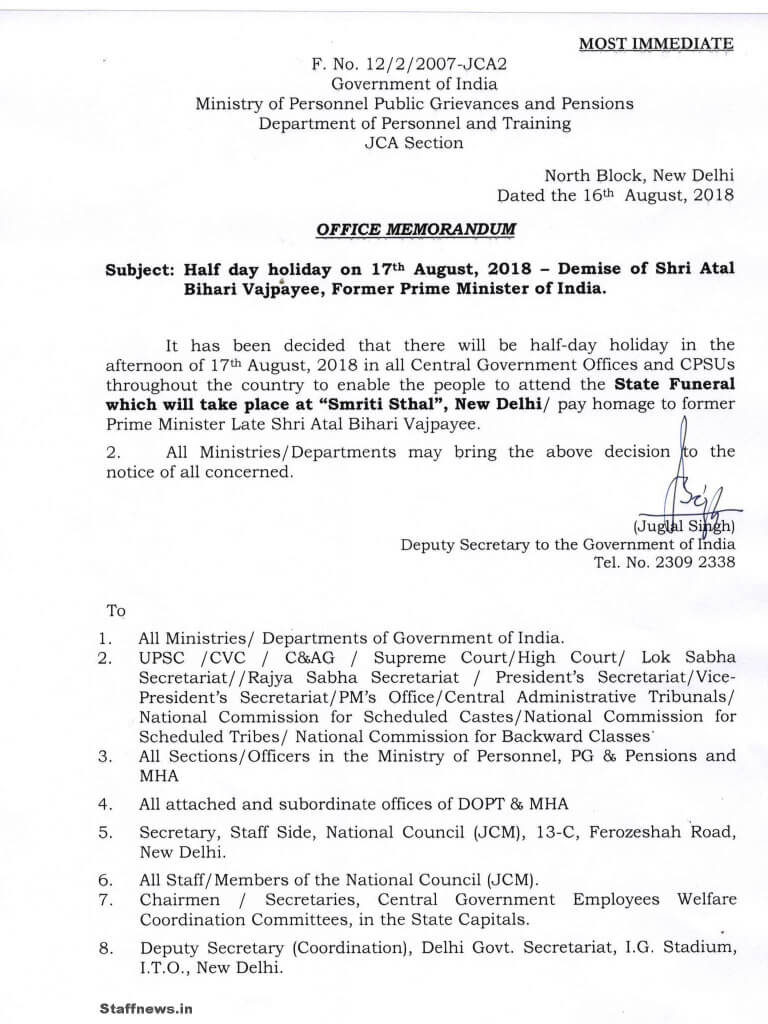 To
1. All Ministries / Departments of Government of India.
2. UPSC /CVC / C85AG / Supreme Court/ High Court/ Lok Sabha Secretariat/ /Rajya Sabha Secretariat / President's Secretariat/Vice-President's Secretariat/PM's Office/ Central Administrative Tribunals/National Commission for Scheduled Castes/ National Commission for Scheduled Tribes / National Commission for Backward Classes
3. All Sections/ Officers in the Ministry of Personnel, PG & Pensions and MHA
4. All attached and subordinate offices of DOPT & MHA
5. Secretary, Staff Side, National Council (JCM), 13-C, Ferozeshah Road, New Delhi.
6. All Staff / Members of the National Council (JCM).
7. Chairmen / Secretaries, Central Government Employees Welfare Coordination Committees, in the State Capitals.
8. Deputy Secretary (Coordination), Delhi Govt. Secretariat, I.G. Stadium, I.T.O., New Delhi.
[https://dopt.gov.in/sites/default/files/ABJ.pdf]