Voluntary Suspension/ Cancellation of ECHS Membership
Central Organisation
Ex-Servicemen Contributory
Health Scheme (ECHS)
Adjutant General's Branch
Integrated HQ of MoD
Delhi Cantt -110010
B/49701-PR/AG/ECHS
14 Jul 2008
IHQ MOD (N)/DGMS (N) For ECHS
Air HOS (VB)/DPS
HQs SC, EC, WC, CC, NC, ARTRAC, SWC & A&NC
HQs WNC, ENC & SNC
HQs WAC, CAC, EAC, SAC, TC, SWAC & MC IAF
VOLUNTARY SUSPENSION/ CANCELLATION OF ECHS MEMBERSHIP
1. Some cases have come to notice that AFVs after becoming members of ECHS have taken up emp in Central/State Govt which have their own.med schemes. Hence they are requested to place their ECHS membership in suspension/cancellation in case they are drawing benefit of Central Govt/State Govt/PSUS/PMF funded scheme.
2. In such cases ESM must deposit their ECHS smart cards with Regional Centre ECHS alongwith all particulars of post retirement employment. The ECHS contribution is non-refundable.
3. The Regional "Centres are to keep such ECHS smart cards in safe custody till such time ESM is employed with other Govt deptt. The same will be reactivated once the ESM chooses ECHS and does not take'any benefit? from any other Govt run medical scheme on final completion/retirement of his service with Central Govt/State Govt/PSUS/P-MF.
4. The above may please be given wide publicity.
(Satish Malik)
Brig
DyMD
For MD ECHS
All Area/Sub Area/Stn HOS/Army Record Offices
All ECHS Regional Centres
AG's Branch (AG/Coord)
AG's Branch (AG/MP 5/6)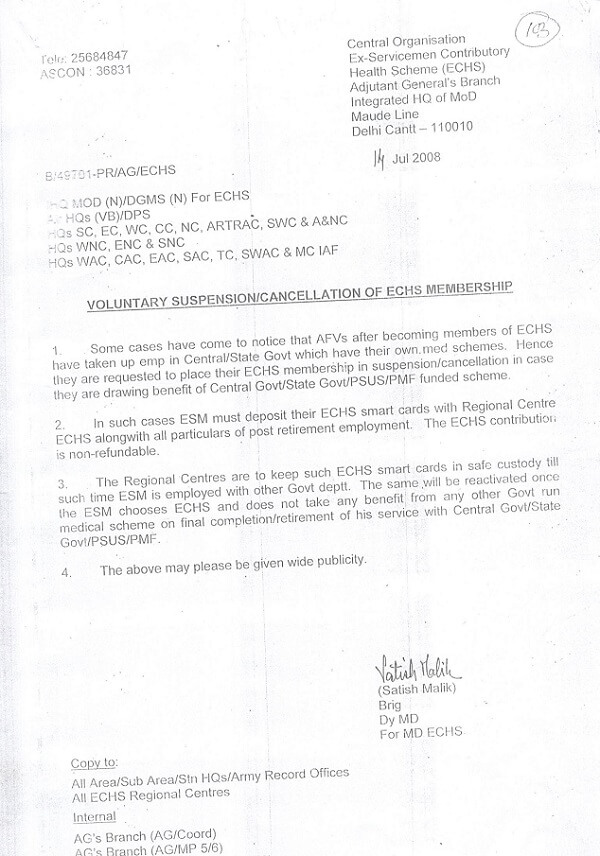 Source: Click here to view/download the PDF