Railways: Supply of copy of Service Cards to Gazetted Officers – reg. (RBA No. 19/2019)
भारत सरकार GOVERNMENT OF INDIA
रेल मंत्रालय MINISTRY OF RAILWAYS
रेलवे बोर्ड (RAILWAY BOARD)
No 2018/AC-II/ 20/8
रेल भवन, नई दिल्ली – 110001 19/2/2019
Rail Bhavan, New Delhi-110001 19/2/2019
The Principal Financial Adviser
(All Zonal Railway & Production Units)
Sub:- Supply of copy of Service Cards to Gazetted Officers.
Please connect Board's letter of even no. dated 21/8/18 under which it was requested to ensure that above provisions & instructions issued from time to time with regard to supply of copy of Service Record to officers are followed.
It is requested to review the position on your Railway to ensure that the above provisions/ instructions are followed scrupulously by officials handling the service Records and send a compliance report for Board's information at the earliest. This may also be notified to all officers on your Railway.
(G. Kabul)
Director Finance/CCA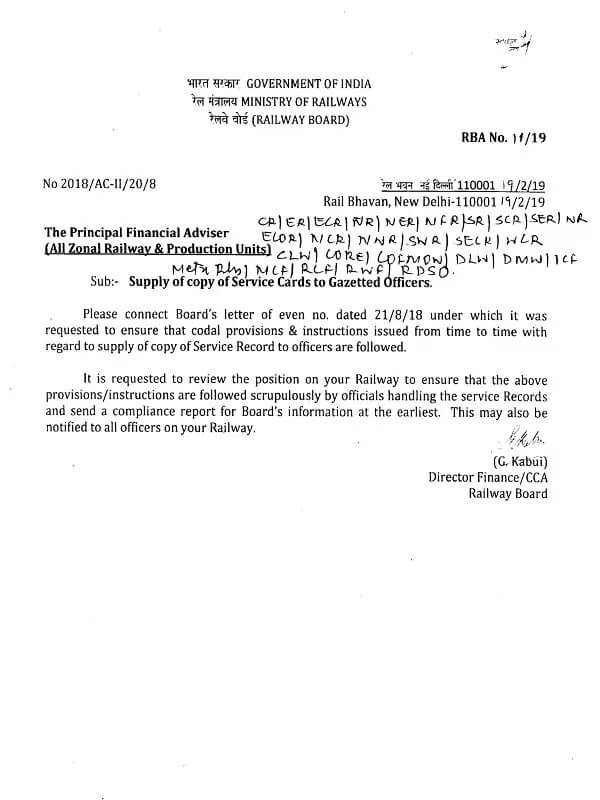 Source:
Click to view/download signed pdf
[http://www.indianrailways.gov.in/railwayboard/uploads/directorate/accounts/downloads/circular/2019/RBA_11_2019.pdf]