Salary Advance to the employees affected by Severe Cyclonic storm 'FANI' in
KUR Division of ECoR
GOVERNMENT OF INDIA
MINISTRY OF RAILWAYS
RAILWAY BOARD
No.2019/E(LL)/APW/1

New Delhi, dated: 08.05.2019

The General Manager,
East Coast Railway,
Bhubaneswar.
Sub: Sanction of salary advance to the employees affected by severe
cyclonic storm 'FANI' in KUR Division of ECoR.
Ref: ECoR's letter No. ECoR/Pers/Wel/Cyclone/FANI dated 07.05.2019
Sanction of Ministry of Railways is hereby communicated for payment of Rs.
5000/- (Rs. Five Thousand only) from the salary of May, 2019 in the form of
cash by out for the month of May, 2019 to employees working at PUI, KUR,
BBS Sections of KUR Division, ECoR on account of cyclonic storm 'FANI' in
KUR Division, ECoR.
2. This issues with the concurrence of Finance (Establishment), Directorate
of the Ministry of Railways.
(Ms. Marju)
Jt. Director/E(LL)
Railway Board.


No.2019/E(LL)/APW/1

New Delhi, dated: 08.05.2019

FA&CAO, ECoR.
The Principal Director of Railway Audit, ECoR.
The Dy. Comptroller and Auditor General of India (Railways), Room No.
224, Rail Bhawan, New Delhi.
For Financial Commissioner (Railways)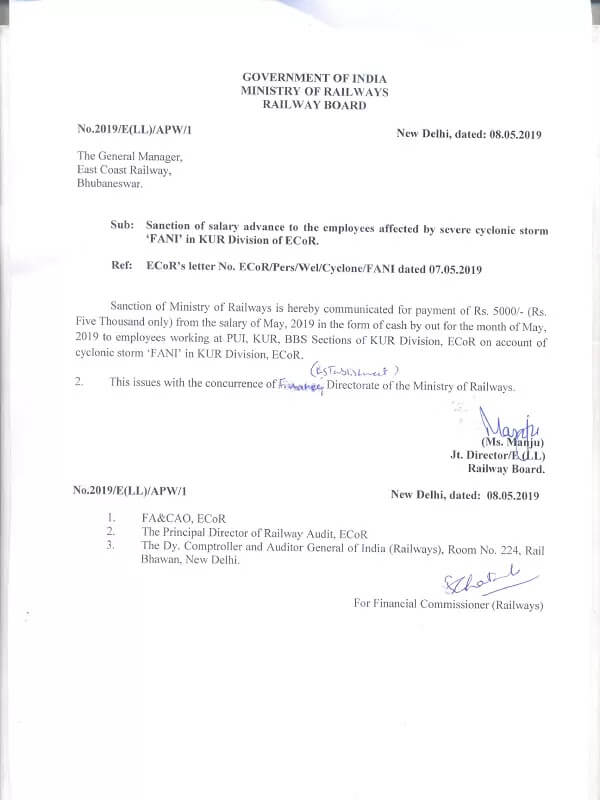 [http://www.indianrailways.gov.in/railwayboard/uploads/directorate/establishment/ELL/2019/E(LL)_Fani%20EcoR.pdf]