Pendency of Medical Claims of CGHS Pensioner beneficiaries due to deficiency in documentation
Z.15025/67/2019/DIR/CGHS/
Govt. of India
Min. of Health & Family Welfare
Directorate General Of CGHS
545-A Nirman Bhawan, New Delhi
Dated the 18th September,2019
OFFICE ORDER
Subject: Pendency of Medical Claims of CGHS Pensioner beneficiaries due to deficiency in documentation (More Documents Required)
The matter concerning pendency of Medical Claims of CGHS pensioner beneficiaries has been reviewed in this Directorate and the undersigned is directed to state that it is now decided that the following revised guidelines shall be followed in respect of such medical claims:
1. The medical claims, which are incomplete in documentation shall be examined to see if, there are any minor deficiencies, which can be resolved to process the claims by Addl. Directors. These include:
i) Photocopy of CGHS Card and validity– Addl. Director,CGHS , may try if, the matter can be verified from CGHS data base.
ii) Emergency Certificate – is not sacrosanct and from the clinical findings in the discharge summary the emergency factor can be ascertained. Even powers are vested with ADs to consider ex-post fact approval at CGHS rates even under non emergency conditions using the powers for condonation of procedural lapses.
iii) Some cities ask for Bed-Ticket issued at Hospital – these are not mentioned in the CGHS Check list and the beneficiary shall not be asked to submit the same
iv) If empanelled hospital has not provided credit facility and the pensioner has made payment, often the beneficiary is asked to explain as to why the hospital has not provided credit facility. Such practice shall be avoided and explanation if any, shall be called for from empanelled hospital.
v) In case of Chemotherapy, there is option to collect chemotherapy medicines from CGHS before undergoing Injection/Infusion from empanelled hospital. However, it is not compulsory and as per the policy of hospitals, particularly JCM accredited hospitals and some of the NABH Accredited hospitals , they shall not accept medicines from outside hospital supplies. In such cases, the processing of the claims shall not be delayed unnecessarily on this ground.
2.  Despite the steps undertaken as mentioned above under Para (1), if some deficiencies still persist in documentation, Addl. Director, CGHS shall send a letter to the beneficiary by speed-post clearly indicating the requisite documents within Five working days of receipt of claim papers at the office of Addl.Director, CGHS. The beneficiary shall also be informed by telephone / e-mail to submit the same to the Office of Additional Director, CGHS.
3.  As per the existing guidelines the medical claims of beneficiaries aged 80 years and above shall be processed on priority out of turn.
4. CMOs i/c or a person nominated by CMO i/c may be given training at the office of Addl. Director regarding verification of documentation before accepting the same at the CGHS Wellness Centre.
(Dr.Atul Prakash)
Director CGHS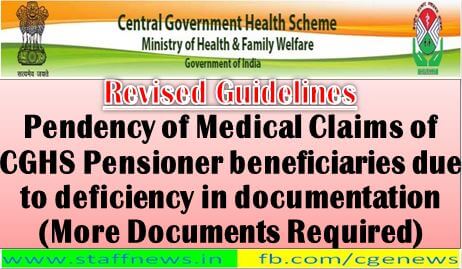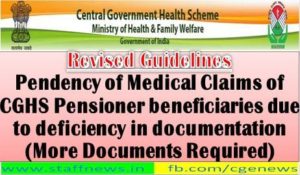 Source: Click here to view/download the PDF
[https://cghs.gov.in/showfile.php?lid=5520]