No Tax upto Rs.15 Lakh, Additional Pension from 70 Years, FMA Rs. 3,000, Shelter Homes for Pensioners and more in BDPA writes to PM Modi in view of General Budget 2020-21
BSNL & DOT PENSIONERS ASSOCIATION [INDIA]
CENTRAL HEAD QURTER, AHMEDABAD – 380001
No. BDPA(I)/Budget/2020
Dated 7th January, 2020
To
Hon'ble Shri Narendra Modiji,
Hon'ble Prime Minister of India,
Raisina Hills, South Block,
New Delhi – 110 001
Sub: General Budget 2020 – BDPA (INDIA) proposals for consideration and inclusion in the Budget proposals to be presented before the Parliament -reg.
View: No Tax upto Rs.15 Lakh for Senior Citizen, Additional Pension from 70 Years, 05 days extra Casual Leave & FMA Rs. 3,000 and more in NFIR Proposal in General Budget 2020-21
Jay Shri Krishna, Shri Modiji
We are happy to learn that the Present Government is taking welfare steps for senior citizen and to make their retired life comfortable, we would like to urge you to kindly consider the following proposals for inclusion in the ensuing Union Budget 2020 to be presented before the Parliament during Budget presentation in February 2020:-
Pension/Earnings of Senior Citizens may be exempted from Income Tax up to Rupees 15 lakhs per annum.
Additional quantum of pension may be allowed to the pensioners on attainment of 75 years age instead of 80 years as at present with further increase to those who attain 80 and 85 years.
Fixed Medical Allowance for retired Government employees be enhanced to not less than 3000 per month as against Rs. 1000 p.m. at present in view of high cost of medicines and medical treatment.
Provision be made for construction of Shelter Homes for Pensioners at various locations in the country.
Extend facility to book Holiday Home & Inspection Quarters on line by Retired persons.
With Regards,
Yours Sincerely,
(D.D. MISTRY)
General Secretary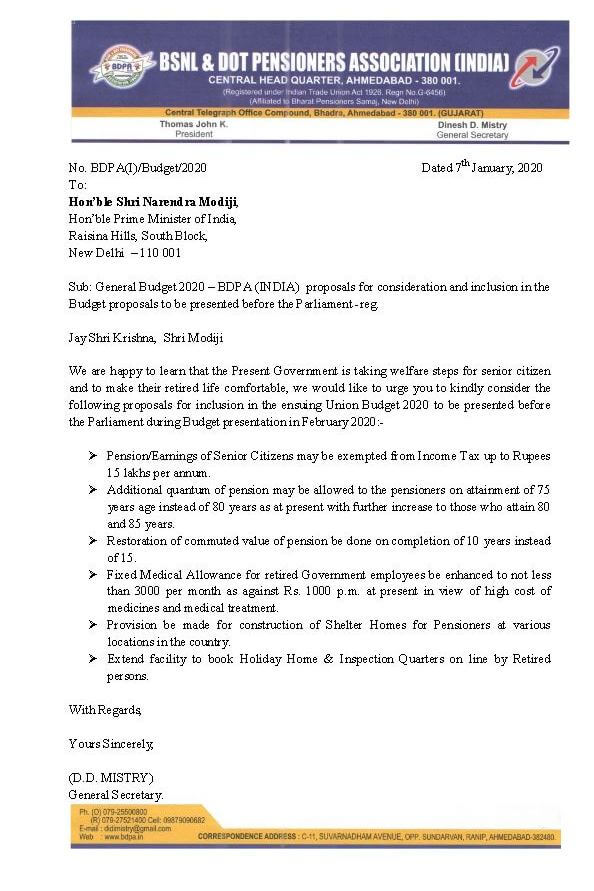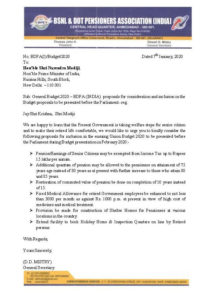 Source: www.bpda.in