ECHS Order: Notification of CGHS Rates for 15 investigation under CGHS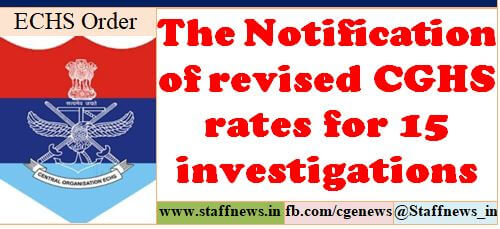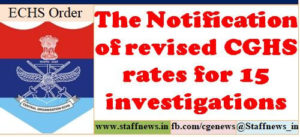 Central Organisation, ECHS
Adjutant General's Branch
Integrated Headquarters
Ministry of Defence (Army)
Thimayya Marg, Near Gopinath
Circle, Delhi Cantt-110010
B/49773/AGIECHS/Rates/Policy
24 Jan 2020
IHQ of MoD (Navy)/Dir ECHS (N)
DAV, Subroto Park
HQ Southern Command (A/ECHS)
HQ Eastern Command (A/ECHS)
HQ Western Command (A/ECHS)
HQ Central Command (A/ECHS)
HQ Northern Command (A/ECHS)
HQ South Western Command (A/ECHS)
HQ Andaman & Nicobar Command (A/ECHS)
AMA ECHS, Embassy of India,Nepal
All Regional Centre ECHS
NOTIFICATION OF CGHS RATES FOR 15 INVESTIGATIONS UNDER CGHS
1. Govt of India, Min of Health & Family Welfare vide their OM No S-11011/09/2019/ Addg.HQ/CG HS dated 14 Jan 2020 has notified CGHS package rates for the following
S.No.
Name of Unlisted Investigations/ Unlisted Implant
Recommended Rates (in Rupees)
(a)
Kappa Lambda Light Chains, Free, Serum
3500/-
(b)
Serum IGE level
300/-
(c)
NT-Pro BNP
1800/-
(d)
CECT Chest
2500/-including CD
(e)
MRI-Prostate(Multi-parametric)
6000/-including CD
(f)
HCV RNA Quantitative
1500/-
(g)
Tarcolimus
2300/-
(h)
Protein Creatinine Ratio, Urine
120/-
(j)
Fibroscan Liver
1000/-
(k)
HLA B27(PCR)
500/-
(l)
Montoux Test
175/-
(m)
Procalcitonin
1800/-
(n)
TORCH Test
1120/
(o)
Intracoronary OCT (AIIMS Rates)
65000/-+GST
(p)
FFR Wire cost (AllMS Rates)
Wire as per AllMS rates of 23500/-+GST

And procedure charges as per existing CGHS rates of Rs 15000/-for NABH and Rs.12750/-for Non NABH hospitals
2. The rates for investigation from Ser No (a) to Ser No (n) are for non NASL/ Non NABH accredited hospitals. The rates for NASL/ NASH accredited hospitals shall be 15% more. The rates from S No (o) & (p) shall be common for both NASH accredited/ Non NASH accredited hospitals.
3. The revised rates as mentioned in the OM be disseminated to the ECHS Polyclinics/ Empanelled Hospitals and to the SEMOs.
4. The rates would be applicable from the date of issue of this letter
Encl :As above.
(Anupam N Adhaulia)
Col
Dir (Med)
for MD ECHS
CGHS Rates Notification for inclusion of new 15 Investigations: CGHS Order
Click here to view/download the PDF
Source: ECHS.gov.in