Reservation in Promotion: Methodology to operate "Own Merit" in terms of DoPT OM 36012111/2016-Estt.(Res-l )(Pt-ll) dated 15.06.2018 by following the practice adopted by DoPT & UPSC
Directorate General (Personnel)/E 1 (DPC)
Military Engineer Services
Engineer-in-Chiefs Branch
Kashmir House New Delhi -110011
B/41025/Gen/E1 (DPC)
24 Dec 2019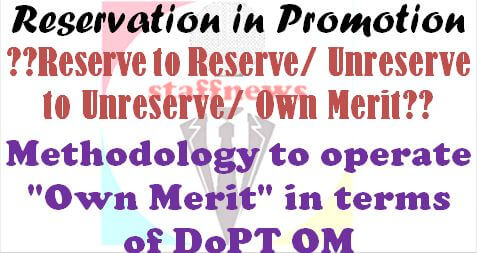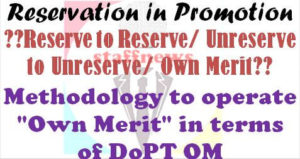 ADG(North) Jammu
ADG(Project) Chennai
ADG(NEI) Guwahati
CME Pune
HQ CE Southern Command, Pune
HQ CE Eastern Command, Kolkata
HQ CE Western Command, Chandimandir
HQ CE Central Command, Lucknow
HQ CE Northern Command, Udhampur
HQ CE South Western Command, Jaipur
METHODOLODY TO OPERATE "OWN MERIT" IN TERMS OF DoP&T OM 36012111/2016-Estt.(Res-l )(Pt-ll) DATED 15.06.2018 IN THE PROMOTION IN MES
1. The Hon'ble Supreme Court Order on 17.05.2018 in the SLP(C) No. 30621/2011 filed on the matter of reservation in promotion treatment of SC/ST candidates promoted on their own merit, directed that "the pendency of this Special Leave Petition shall not stand in the way of Union of India taking steps for the purpose of promotion from 'reserved to reserved' and 'unreserved to unreserved' and also in the matter of promotion on merits." Accordingly DoP&T promulgated vide their order dated 15.06.2018 on the same lines. However their has been doubt's raised on its interpretation with respect to promotion of candidates on "OWN MERIT".
2. The matter was referred to MoD and DoP&T for clarification. MoD vide letter No56/LR/2019/D(Works-ll)/Pt dated 11.04.2019 has brought out that:-
"All necessary action may be taken to correctly operate "OWN MERIT" promotion as confined in DoP&T's OM dated 15.06.2018 by following the practice adopted by DoP&T and UPSC, in the promotions of MES officers, wherever applicable, including the promotion from JE to AE level."
3. Further on checking the methodology adopted by UPSC & DoP&T, it reveals that reserve category officers falling in seniority/merit above the last unreserve candidate are to be promoted against unreserve vacancy treating them as "OWN MERIT" and vacancies earmarked for SC/ST are to be filled from extended zone of consideration .
4. It is, therefore , directed that henceforth all the DPCs where reservation in promotion is applicable shall be carried out applying the "OWN MERIT" as per the procedure adopted by  DoP&T/UPSC, till finalization of SLP pending with Hon'ble Supreme Court of India and further orders issued by DoP&T. The DPC's conducted contrary to this procedure be reviewed accordingly.
(Ani Singh) Brig
DDG(Pers) 'M'
For Engineer-in-Chief
Source: MES.gov.in Click here to view/download the PDF