Government has invested large amount from EPF subscribers in various stocks, bonds, debentures and mutual benefit schemes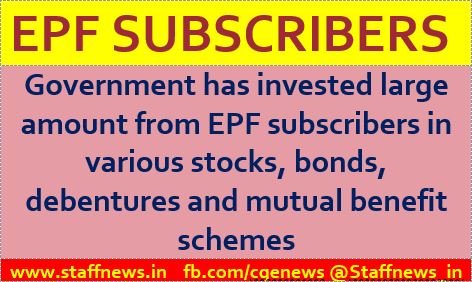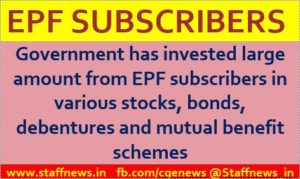 GOVERNMENT OF INDIA
MINISTRY OF LABOUR AND EMPLOYMENT
LOK SABHA
UNSTARRED QUESTION NO. 19
ANSWERED ON 03.02.2020
EPF SUBSCRIBERS
SHRI THIRUNAVUKKARASAR SU
Will the Minister of LABOUR AND EMPLOYMENT be pleased to state:
(a) whether it is true that the Government has invested large amount from EPF subscribers in various stocks, bonds, debentures and mutual benefit schemes and if so, the details thereof;
(b) whether the funds deposited by the EPF subscribers are being invested in shares of blue chip companies;
(c) if so, the details thereof and the list of such companies where EPF funds were invested;
(d) whether the Government has funded any loans from EPF to various Government projects; and
(e) if so, the details thereof and the Government's stand in this regard?
ANSWER
MINISTER OF STATE (IC) FOR LABOUR AND EMPLOYMENT (SHRI SANTOSH KUMAR GANGWAR)
(a) to (c)  Employees' Provident Fund Organisation (EPFO) invest 85 per cent of the Funds in Debt instruments and 15 per cent of the investment is made in Exchange Traded Funds (ETFs), as per Investment Pattern notified by the Government. The investment in ETFs is made based on Nifty 50, Sensex, Central Public Sector Enterprises (CPSEs) and Bharat 22 Indices. EPFO does not invest in shares and equities of individual companies.
(d)         No, Sir.
(e)        Does  not  arise  in  view  of  the  reply  to  part  (e)  of  the Question above.
भारत सरकार
श्रम और रोजगार मंत्रालय
लोक सभा
अतारांकित प्रश्न संख्या 19
सोमवार, 3 फरवरी, 2020/14 माघ, 1941 (शक)
ईपीएफ अंशदाता
श्री सु.थिरुनवुक्करासर
क्या श्रम और रोजगार मंत्री यह बताने की कृपा करेंगे कि:
(क) क्या यह सच है कि सरकार ने विभिन्‍न स्टॉक, बॉड, ऋण-पत्रें और म्युचुअल लाभ योजनाओं में ईपीएफ अंशदाताओं की बड़ी धनराशि का निवेश किया है और यदि हां, तो तत्संबंधी ब्यौरा क्‍या है;
(ख) क्या ईपीएफ अंशदाताओं द्वारा जमा निधि का ब्लू चिप कंपनियों के शेयरों में निवेश किया जा रहा है;
(ग) यदि हां, तो तत्संबंधी ब्यौरा क्या और ऐसी कंपनियों की सूची क्‍या है जहां ईपीएफ निधि का निवेश किया गया है;
(घ) क्या सरकार ने विभिन्‍न सरकारी परियोजनाओं को ईपीएफ से कोई ऋण वित्त-पोषित किया है; और
(उ) यदि हां, तो तत्संबंधी ब्यौरा क्या है और इस संबंध में सरकार का क्या रुख है?
उत्तर
श्रम और रोजगार राज्य मंत्री (स्वतंत्र प्रभार)
(श्री संतोष कुमार गंगवार)
(क) से (ग)  कर्मचारी भविष्य निधि संगठन (ईपीएफओ) निधियों का 85 प्रतिशत ऋण लिखतों में निवेश करता है और सरकार द्वारा अधिसूचित निवेश पद्धति के अनुसार निवेश का 15 प्रतिशत मुद्रा कारोबार कोष (ईटीएफ) में निवेश करता है। ईंटीएफ में निवेश, निफ्टी 50, सेनसेक्स, केंद्रीय सार्वजनिक क्षेत्रों के उद्यमों (सीपीएई) और भारत 22 सूचकांकों पर आधारित होता है। ईपीएफओ वैयक्तिक कंपनियों के शेयर और इक्यूटी में निवेश नहीं करता है।
(घ)   जी, नहीं।
(ड.)  उपर्यक्त प्रश्न के भाग (ड.) के उत्तर के इष्टिगत प्रश्न नहीं उठता है।
Source ;  Eng. http://164.100.24.220/loksabhaquestions/annex/173/AU19.pdf
Hindi http://164.100.24.220/loksabhaquestions/qhindi/173/AU19.pdf