Reduction of Bank Staff by substitution of bank branches with e-corners: Clarification by Govt.
GOVERNMENT OF INDIA
MINISTRY OF FINANCE
LOK SABHA
UNSTARRED QUESTION NO: 68
ANSWERED ON: 03.02.2020
Reduction of Bank Staff
Sisir Kumar Adhikari
Will the Minister of FINANCE be pleased to state:-
(a) whether the Government proposes to reduce 16 lakh employees of State Bank of India by March 2021, if so, the details thereof and the reasons therefor;
(b) whether the Government also plans to shutdown bank branches throughout the country, substituting e-corner therefor;
(c) if so, whether the entire demand of customers will fulfil such replacement and help the customer satisfaction therein; and
(d) if so, the details thereof and if not, the reasons behind reducing branches and employment therein?
ANSWER
MINISTER OF STATE IN THE MINISTRY OF FINANCE
(a) and (b): No, sir. State Bank of India has informed that its approximate present staff strength is 2.5 lakh and no reduction in the number of employees is envisaged by March 2021, and that there is no plan to shut down bank branches throughout the country and substitute them with e-corners.
(c) : Does not arise.
(d) : Does not arise.
*****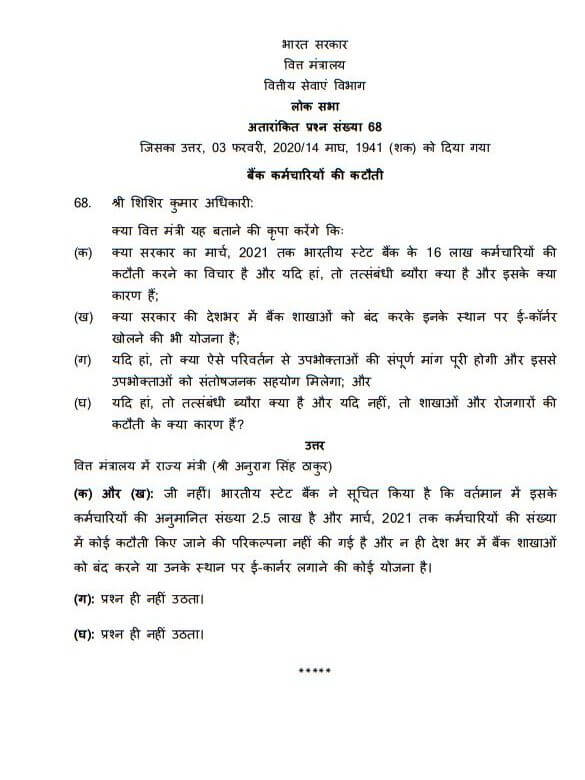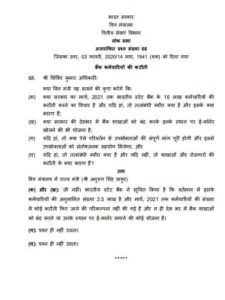 Source: Lok Sabha Click here to view/download the PDF