CGA has issued instructions to Joint Controller to send the Daily Attendance report during lockdown period ( 20.04.2020 to 03.05.2020) for onward transmission to Finance Ministry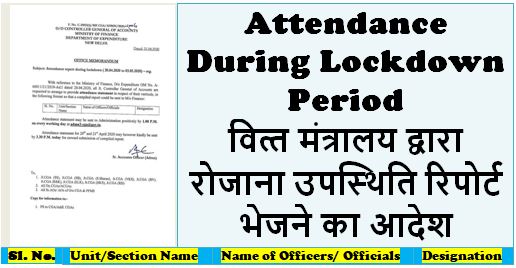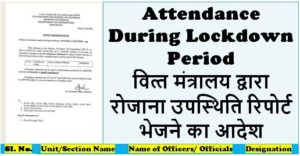 F.No. C-35021(1)/MF.CGA/ADMN/2020/ 2006
O/O CONTROLLER GENERAL OF ACCOUNTS
MINISTRY Of FINANCE
DEPARTMENT OF EXPENDITURE
NEW DELHI,
Dated: 21.04.2020
OFFICE MEMORANDUM
Subject: Attendance report during lockdown ( 20.04.2020 to 03.05.2020) — reg.
With reference to the Ministry of Finance, D/o, D/o Expenditure OM No. A- 60011/21/2019-Ad.J dated 20.04.2020, all Jt. Controller General of Accounts are
requested to arrange to provide attendance statement in respect of their verticals, in the following format so that a compiled report could be sent to M/o Finance:
| | | | |
| --- | --- | --- | --- |
| Sl. No. | Unit/Section Name | Name of Officers/ Officials | Designation |
Attendance statement may be sent to Administration positively by 1.00 P.M. on every working day at admn3-cga[at]gov.in.
Attendance statement for 20th and 21st April 2020 may however kindly be sent by 3.30 P.M. today for onward submission of compiled report.
Sr. Accounts Officer (Admn)
To,
1. Jt.CGA (SS), It.CGA (SB), Jt.CGA (S.Sharan), Jt.CGA (VKS), Jt.CGA (BV), Jt. CGA (RRK), Jt.-CGA (ELK), Jt.CGA (HKS), Jt.CGA (RD)
2. All Dy.CGAs/ACGAs
3. All Sr.AOs/ AOs of O/o CGA & PFMS
Copy for information to:-
1. PS to CGA/Addl. CGAs
Source:  CGA.nic.in Click here to view/download the PDF
[http://cga.nic.in//writereaddata/file/Attendance2006Dt21042020.pdf]