Correspondence with Railway Board during pandemic COVID-19 and thereafter
GOVERNMENT OF INDIA
MINISTRY OF RAILWAYS
RAILWAY BOARD
New Delhi
No.2020/TC(CR)/505/04/Corres
Dated: 01 .06.2020
PCCMs
PCOMs
All Indian Railways
Sub: Correspondence with Railway Board during pandemic COVID-19 and thereafter
As we are all aware of the prevailing conditions due to pandemic COVID-19 and the emphasis on adapting to new normal, it is advised that all Zonal Railway references and correspondence to Railway Board on subjects pertaining to Rates directorate may please be sent through e-mail only. Physical dak must be discouraged.
All concerned may be advised to please send the letters/references complete in all aspects with due approval of competent authority as per extant guidelines. The subject of e-mail may be paid attention to, so as to clearly speak of the matter it pertains to. Similarly, Zonal railway mail ID must be self-explanatory. For eg. [email protected] or [email protected] etc. Each Zonal Railway may communicate with one mail ID only. The sorting and retrievability of mails shall go a long way in adding to efficient disposal. All mails may please be addressed to [email protected]
Your cooperation is kindly solicited to ensure that efficiency is maintained along-with safety.
Sd/-
(Barjesh Dharmani)
Executive Director/Traffic Commercial (Rates)
Railway Board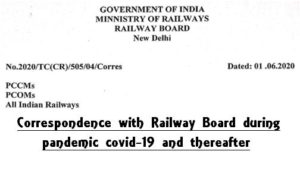 Source: http://www.indianrailways.gov.in/railwayboard/uploads/directorate/traffic_comm/Rates-Letters/2020/TCCR_Correspondence_with_Railway_Board_01062020.pdf