DoE Clarification on Performance Security in terms of Rule 171 of GFR, 2017 guidelines
No.F.18/15/2020-PPD
Government of India
Ministry of Finance
Department of Expenditure
Procurement Policy Division
*****
512, Lok Nayak Bhawan, New Delhi
Dated the 25th June, 2020
OFFICE MEMORANDUM
 Subject:     Clarification on the applicability of OMs dated 13.05.2020.
Attention is invited to the two OMs No.F.18/4/2020-PPD dated 13.05.2020 regarding Performance Security in terms of Rule 171 of GFRs 2017 and Force Majeure Clause issued by this Department in the time of COVID-19 pandemic (copies attached). A Doubt has arisen as to whether the Central Public Sector Undertakings (CPSUs) are covered under the term "Government Agencies" referred in these OMs. In this regard it is hereby clarified that- these two OMs are applicable not only to all Central Ministries/ Departments, their attached and subordinate offices, Autonomous Bodies covered by GFR, 2017 but also to Central Public Sector Undertakings (CPSUs) subject to issue of any separate orders by Department of Public Enterprises in this regard.
(Kotluru Narayana Reddy)
Deputy Secretary to the Govt. of India
To
All Secretaries of Central Ministries/ Departments
Copy to: Secretary, Department of Public Enterprises with a request to reiterate the instructions in the OMs cited for compliance of CPSUs, as these were part of the Government's 'Atmanirbhar Bharat' package.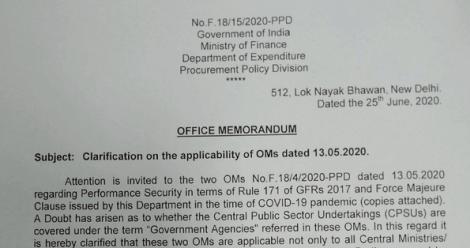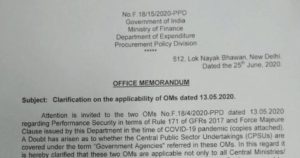 Source: DoE Click here to view/download the PDF