Dispensing with the requirement of BSR code of Bank from the pension claim forms: Railway Board RBE No. 55/2020
RBE No.55/2020
GOVERNMENT OF INDIA (BHARAT SARKAR)
MINISTRY OF RAILWAYS (RAIL MANTRALAYA)
(RAILWAY BOARD)
No. D-43/43/2020-F(E)III New Delhi,
Dated :- 21 .07.2020
The GMs/Principal Financial Advisors,
All Zonal Railways/Production Units,
(As per mailing list)
Subject: Dispensing with the requirement of BSR code of Bank from the pension claim forms — regarding.
A copy of Department of Pension & Pensioners' Welfare (DOP&PW's) O.M. No. 12/12/2020-P&PW(C)-6526 dated 27th June, 2020 is enclosed herewith for compliance and guidance. These instructions shall apply mutatis mutandis on the Railways also. Form 5 and Form 14 of the Central Civil Services (Pension) Rules, 1972 correspond to the Form 8 and Form 10 of the Railway Services (Pension) Rules, 1993, respectively.
(G. Priya Sudarsani)
Director, Finance (Estt.),
Railway Board.
View: Revised Admissibility to Travel by Taxi for using One's own car for local journeys at or near HQ: Railway Board RBE No. 56/2020
D.A.: as above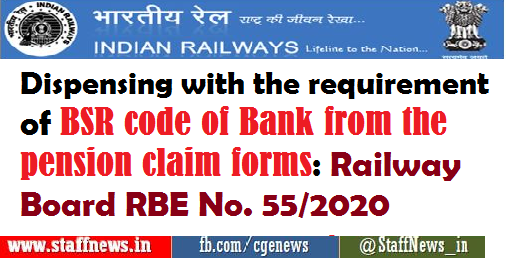 Source: Click here to read/view the pdf