Providing Transport Allowance during COVID-19 Lockdown. CGA, Ministry of Finance has issued the clarification that the issue of transport allowance shall be governed by extent rules issued by DoPT no specific guidelines available for lockdown period.
No.23006/1/2020-NGE-CGA/15
Government of India
Ministry of Finance
Department of Expenditure
Controller General of Accounts
Mahalekha Niyantrak Bhawan
E Block, GPO Complex, INA
New Deihi — 110023
Dated: 18 july, 2020
To
Secretary General
All India Civil Accounts Employees Association
17/2 -C, P & T Quarters
Kali Bari Marg
New Deihi-110001
Sub: Situation in Mumbai due to coronavirus infection-reg.
Sir,
l am directed to refer to your Letter dated 05.06.2020 and Mumbai Branch letter Dated 30.05.2020 on the subject mentioned above. in this regard, it is informed that the M/o Home Affairs, M/o Health & Family Welfare and DoP&T have issued various instructions in reference to the prevailing situation of Coronavirus infection throughout the country. These instructions were time to time circulated by CGA office for compliance in field offices.
The issues regarding providing Transport Allowance, delegation of more powers to Zonal Head offices and Incentive etc. are governed by the extant rules issued by DoPT from time to time. No specific instructions/guidelines issued by the DoPT for the same during the lock down period. The Head of Offices in respect all field offices are competent to decide such issues in accordance with the extant rules of DoPT.
View: Report and Post-check of Bills passed during COVID-19 while doing Work from home on PFMS: CGA
Yours faithfully
(Madhukar Sharma)
Sr. Accounts Officer (HR-4)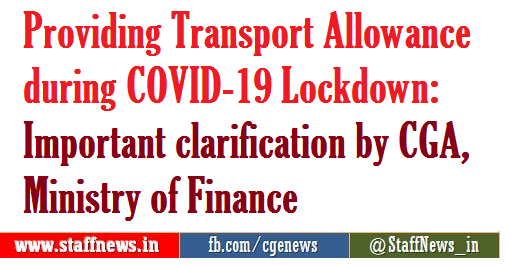 Source:  Click here to view/download the PDF
[http://nfcaahqnd.blogspot.com/2020/07/blog-post.html]