Rationalized Curriculum and Guidelines for Internal Assessment 2020-21
Central Board of Secondary Education
'Shiksha Sadan', 17, Rouse Avenue,
Institutional Area, New Delhi – 110002
CBSE-Acad/Circular/2020
Date: July 15th, 2020
Circular No: Acad-50/2020
All Heads of Institutions affiliated to CBSE
Subject: Rationalized Curriculum and Guidelines for Internal Assessment 2020-21
CBSE vide circular no. 47/2020 dated 7th July 2020, had announced the 'Revised Academic Curriculum for classes IX-XII for the session 2020-21' to mitigate the effect of face to face learning loss due to the closure of schools to contain COVID-19 Pandemic. The rationalization of syllabus up to 30% has been undertaken by the Board for nearly 190 subjects of class IX to XII as a onetime measure to reduce the stress and exam pressure of students.
It had also been informed that the reduced topics would not be part of the Internal Assessment or the Board examination 2021.
In this regard, it is clarified that if any school has covered topics that are not a part of the 'Revised Academic Curriculum for classes IX-XII in the session 2020-21' , the same can be a part of Internal Assessment and credit to students be given for Board Exams 2021. The Schools may use the rationalised topics for Experiential and Project Based Learning through the strategies provided in the Alternative academic calendar of NCERT as notified vide Boards circular no. 30/2020 dated 25th April 2020 to prevent learning gaps.
The schools are also advised to avail the Training opportunities provided by the Board through various Online Training Programs for Teachers to implement Experiential Learning and Project Based Learning for the effective use of Alternative Academic Calendar.
(Dr Joseph Emmanuel)
Director Academics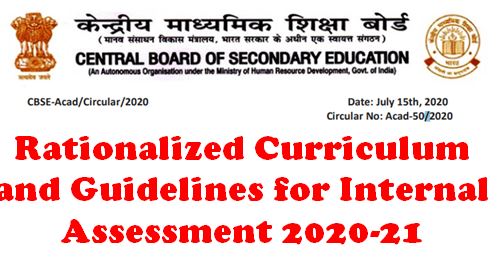 Source: Click here to view/download the PDF
[http://cbseacademic.nic.in/web_material/Circulars/2020/50_Circular_2020.pdf]