Disinvestment of PSUs Latest News: List of CPSEs, including Subsidiaries, units and Joint ventures, for strategic disinvestment.
GOVERNMENT OF INDIA
MINISTRY OF FINANCE
LOK SABHA
UNSTARRED QUESTION NO: 35
ANSWERED ON: 14.09.2020
Disinvestment of PSUs
P. Velusamy
Will the Minister of FINANCE be pleased to state:-
a) the details of steps taken by the Government to control the slow-down of the economy and to raise cash under the reform drive;
b) whether the Government is having any proposal to disinvest or sell the Public Sector Undertakings (PSUs);
c) if so, the details thereof;
d) whether the Government has received any recommendation from Niti Aayog listing the companies to be disinvested;
e) if so, the name of the companies to be listed for disinvestment; and
f) the steps taken by the Government to safeguard the interests of the employees?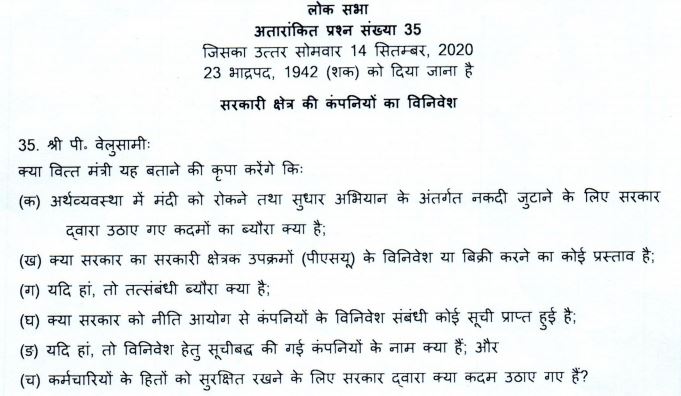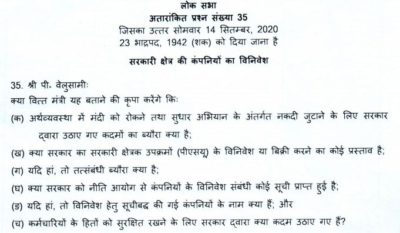 ANSWER
THE MINISTER OF STATE IN THE MINISTRY OF FINANCE
(SHRI ANURAG SINGH THAKUR)
(a) : Government of India implemented several measures to mitigate the negative impact of COVID-19 on the economy which, inter-alia, include:
Relief measures for households such as in-kind (food; cooking gas) and cash transfers to senior citizens, widows, disabled, women Jan Dhan Account holders, farmers; insurance coverage for workers in the healthcare sector; wage increase for MGNREGA workers and support for building and construction workers; collateral free loans to self-help groups and reduction in EPF contributions under Pradhan Mantri Garib Kalyan Yojana and employment provision for migrant workers under Pradhan Mantri Garib Kalyan Rojgar Abhiyaan, amongst others;
Relief measures for MSMEs such as collateral-free lending program with 100 percent credit guarantee, subordinate debt for stressed MSMEs with partial guarantee, partial credit guarantee scheme for public sector banks on borrowings of non-bank financial companies, housing finance companies (HFCs), and micro finance institutions, Fund of Funds for equity infusion in MSMEs, additional support to farmers via concessional credit, as well as a credit facility for street vendors (PM SVANidhi), amongst others;
Regulatory and compliance measures such as postponing tax-filing and other compliance deadlines, reduction in penalty interest rate for overdue GST filings, change in government procurement rules, faster clearing of MSME dues, IBC related relaxations for MSMEs, amongst others
Structural reforms announced as part of the Atmanirbhar Package which, inter alia, include deregulation of agricultural sector, change in definition of MSMEs, new PSU policy, commercialization of coal mining, higher FDI limits in defence and space sector, development of Industrial Land/ Land Bank and Industrial Information System, revamp of Viability Gap Funding scheme for social infrastructure, new power tariff policy and incentivizing States to undertake sector reforms.
(b) and (c) : The Government follows a policy of disinvestment through Strategic Disinvestment and Minority stake sale.
Strategic Disinvestment implies substantial sale of Government shareholding of CPSEs, which are not in priority sector, along with transfer of management control. NITI Aayog has been mandated to identify such CPSEs based on the criteria of (i) National Security; (ii) Sovereign function at arm's length, and (iii) Market Imperfections and Public Purpose. Besides, in certain other CPSEs, the Government carries out disinvestment of minority stake without transfer of management control from time to time through various SEBI-approved methods such as Initial Public Offer(IPO), Offer for Sale (OFS), Buyback of shares and Exchange Traded Funds (ETFs) offers, depending upon prevailing market conditions.
(d) and (e): Based on the criteria laid down by NITI Aayog, the Government has "in principle" approved strategic disinvestment in 34 cases since 2016, out of which strategic disinvestment in 8 cases has been completed, 6 CPSEs are under consideration for closure and litigation, and remaining 20 transactions are at various stages. The details are at Annexure.
(f) Upon strategic disinvestment, the management control of the company shall be in the hands of strategic buyer. While deciding the terms and conditions of the strategic sale, employees' concerned are suitably addressed through appropriate provisions made in the Share Purchase Agreement (SPA) to be signed by the Government with the strategic buyer.
Disinvestment of PSUs Latest News: List of CPSEs
Annexure
List of CPSEs, including Subsidiaries, units and Joint ventures, for which Government has given in-principle" approval for strategic disinvestment.
a) Transactions Completed
S.No. Name of CPSE
1. Hindustan Petroleum Corporation Limited
2. Rural Electrification Corporation Limited (REC)
3. Hospital Services Consultancy Ltd. (HSCC)
4. National Project construction corporation (NPCC)
5. Dredging Corporation of India Ltd. (DCIL)
6. THDC India Limited (THDCIL)
7. North Eastern Electric Power Corporation Limited (NEEPCO)
8. Kamrajar Port Ltd.
b) CPSEs under consideration for closure/ under litigation.
9. Hindustan Fluorocarbon Ltd. (HFL)
10. Scooters India Limited
11. Bharat Pumps & Compressors Ltd
12. Hindustan Prefab Limited (HPL).
13. Hindustan Newsprint Ltd
14. Karnataka Antibiotics & Pharmaceuticals Ltd.
c) Transactions in process
S.No Name of CPSE
15. Project & Development India Ltd.
16. Engineering Project (India) Ltd.
17. Bridge and Roof Co. India Ltd.
18. Units of Cement Corporation of India Ltd (CCI)
19. Central Electronics Ltd
20. Bharat Earth Movers Ltd. (BEML)
21. Ferro Scrap Nigam Ltd.(sub.)
22. Nagarnar Steel Plant of NMDC
23. Alloy Steel Plant, Durgapur; Salem Steel Plant; Bhadrawati units of SAIL
24. Pawan Hans Ltd.
25. Air India and its five subsidiaries and one JV.
26. HLL Life Care Ltd.
27. Indian Medicine & Pharmaceuticals Corporation Ltd. (IMPCL)
28. Various Units of Indian Tourism Development Corporation (ITDC)
29. Hindustan Antibiotics Ltd. (HAL)
30. Bengal Chemicals and Pharmaceuticals Ltd. (BCPL)
31. (a) Bharat Petroleum Corporation Ltd(except Numaligarh Refinery Limited) (b) BPCL stake in Numaligarh Refinery Limited to a CPSE strategic buyer.
32. Shipping Corporation of India (SCI)
33. Container Corporation of India (CONCOR)
34. Nilachal Ispat Nigam Limited (NINL)
***