Impact of bank merger of Union Bank of India, Andhra Bank and the Corporation Bank in view of Job loss or any future job loss
GOVERNMENT OF INDIA
MINISTRY OF FINANCE
DEPARTMENT OF FINANCIAL SERVICES
RAJYA SABHA
UNSTARRED  QUESTION NO. 223
TO BE ANSWERED ON THE 15th September 2020/
Bhadrapada 24, 1942 (SAKA)
Impact of bank merger
 223. SHRI PARIMAL NATHWANI:
Will the Minister of FINANCE be pleased to state:
(a) whether the merger of Union Bank of India, Andhra Bank and the Corporation Bank will lead to any loss of jobs for the present employees or loss of any future employment opportunities for the people;
(b) whether Government plans to preserve the strong regional focus which the Andhra Bank had towards the Telugu speaking States; and
(c)     if so, the details thereof and if not, the reasons therefor?
ANSWER
 THE MINISTER OF STATE FOR FINANCE (SHRI ANURAG SINGH THAKUR)
(a) to (c): As per inputs received from Union Bank of India, the amalgamation of Andhra Bank and Corporation Bank into Union Bank of India has not resulted in any job loss and instead employees have benefited from the amalgamation as a result of, inter alia, improvement in employees' perquisites through harmonisation of the same across the three banks and wider career opportunities through introduction of new verticals in cutting-edge areas such as analytics, business process re-engineering, digitalisation etc.
With regard to focus in the regions where Andhra Bank had strong presence, Union Bank of India has informed that the regional focus of the bank towards the states of Andhra Pradesh and Telangana has become even stronger post the amalgamation, with customers of region benefiting due to increase in the number of bank branches and ATMs from which they may avail of banking services, larger bouquet of products and services through harmonisation of the same across the three banks, and enhanced lending capacity for loans of larger size due to increase in size of the balance-sheet. The bank further informed that increased scale and customer base in the region has enabled opening of additional regional offices and credit processing centres, equipping the bank for better serving customers of the region.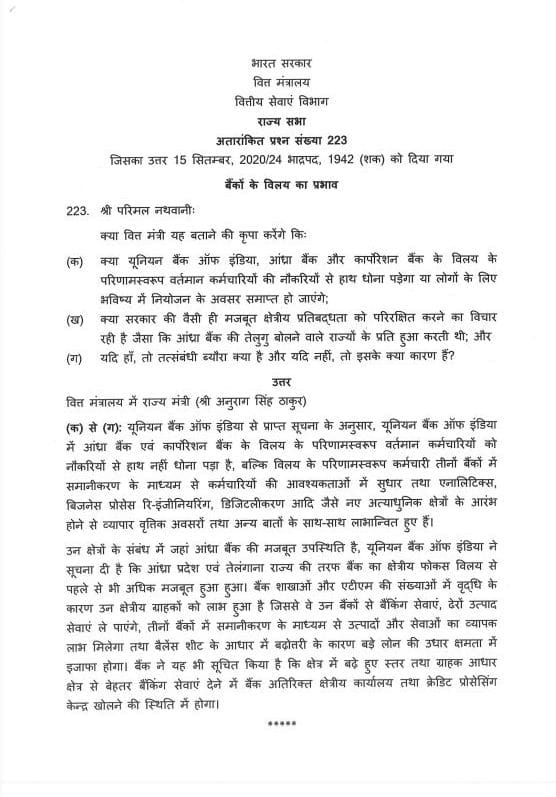 Source: Rajyasabha Q&A