No proposal to formulate a single Transfer Policy for all Central Government employees: DoPT
GOVERNMENT OF INDIA
MINISTRY OF PERSONNEL, PUBLIC GRIEVANCES AND PENSIONS
LOK SABHA
UNSTARRED QUESTION NO: 631
ANSWERED ON: 16.09.2020
Policy for Transfer of Employees
Shivkumar Chanabasappa Udasi
Pratima Bhoumik
Sumedhanand Saraswati
Will the Minister of PERSONNEL, PUBLIC GRIEVANCES AND PENSIONS be pleased to state:-
(a) whether there is any policy for the transfer of employees of Central Government;
(b) if so, the details thereof and if not, the reasons therefor;
(c) whether the Government proposes to formulate single transfer policy for Government employees in the country;
(d) if so, the details thereof and if not, the reasons therefor;
(e) whether the Government proposes to constitute any commission for single transfer policy for both Central and State Government employees; and
(f) if so, the details thereof?
ANSWER
MINISTER OF STATE IN THE MINISTRY OF PERSONNEL, PUBLIC GRIEVANCES AND PENSIONS AND MINISTER OF STATE IN THE PRIME MINISTER'S OFFICE
(DR. JITENDRA SINGH)
(a) & (b): In terms of instructions issued by Department of Personnel & Training (DoPT) on transfer/posting of Government employees, all Ministries/Departments of Government of India are required to have their own guidelines for transfer/posting of their employees providing for the following –
i. minimum tenure;
ii. have a mechanism akin to Civil Services Board for recommending transfer; and Respective Ministries/Departments are also required to place the transfer policy in public domain.
(c) to (f): There is no proposal to formulate a single transfer policy for the Government employees, as guidelines for transfer/posting of employees depend on the specific requirement of individual Ministries/ Departments. Moreover, the State Public Services are under State List for which the State Governments are competent to make rules and policies. Accordingly, there is no proposal to constitute any Commission for single transfer policy for both Central & State Government employees.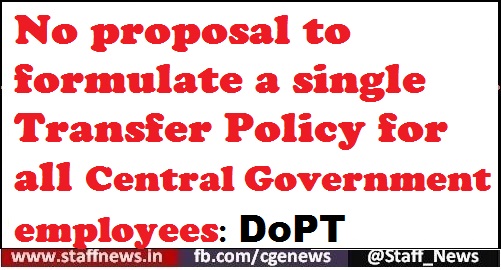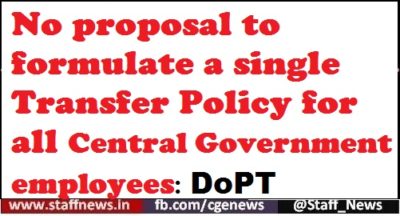 Source: Click here to view/download the PDF in Hindi/ PDF in English