Reporting of Officials in Railway Board's Office. रेलवे बोर्ड कार्यालय में अधिकारियों/कर्मचारियों की रिपोर्टिंग: Office Order No. 68 of 2020
भारत सरकार Government of India
रेल मंत्रालय Ministry of Railways
(रेलवे बोर्ड) Railway Board
Office Order No. 68 of 2020
Sub: Reporting of Officials in Board's Office.
Ref; Office Order No. 63 of 2020
Attention is invited to Office Order No. 63 of 2020 in terms of which all officer of the level of JD and above are to attend Office regularly and others (below JD level) as per roster so as to ensure that 50% of officers and staff attend office on every alternate days with staggered timings until further orders. In addition, depending on requirement/exigencies of work, staff /officer may be called for attending Office over and above 50 % of the strength.
2. Accordingly, it is reiterated, depending on the workload/pendency/timely completion of important assignment, all categories of officials (including PS, PA, Stenographic officials) are to report to office as called for by the Controlling/Branch officer. Other instructions with regard to adhering social distancing norms as contained in Office order No. 66 & 45 of 2020 would remain same.
3. All concerned to ensure strict compliance of above instructions.
E. No.2020/O0&M/9/1
Dated: .09.2020
(B. Majumdar)
Joint Secretary/Railway Board
---
भारत सरकार Government of India
रेल मंत्रालय Ministry of Railways
(रेलवे बोर्ड) Railway Board
2020 का कार्यालय आदेश सं.68
विषय: बोर्ड कार्यालय में अधिकारियों/कर्मचारियों की रिपोर्टिंग।
संदर्भ: 2020 का कार्यालय आदेश सं.63
आपका ध्यान 2020 के कार्यालय आदेश सं.63 की ओर आकृष्ट किया जाता है, जिसके अनुसार संयुक्त निदेशक और उससे ऊपर के सभी अधिकारी नियमित रूप से कार्यालय में उपस्थित होंगे और अन्य कर्मचारी (संयुक्त निदेशक से निचले स्तर के अधिकारी) रोस्टर के अनुसार कार्यालय में उपस्थित होंगे ताकि 50 प्रतिशत अधिकारी और कर्मचारी अलग-अलग समय पर एक दिन छोड़कर कार्यालय में उपस्थित हों। इसके अतिरिक्त, कार्य की आवश्यकता/तात्कालिकता के आधार पर 50 प्रतिशत से अधिक कर्मचारियों/अधिकारियों को कार्यालय बुलाया जा सकता है।
2. तदनुसार, यह दोहराया जाता है कि कार्यभार/लम्बित कार्यो/महतत्वपूर्ण कार्यों को समय पर पूरा करने के आधार पर नियंत्रण अधिकारियों/शाखा अधिकारियों द्वारा बुलाए जाने पर सभी कोटियों के अधिकारियों/कर्मचारियों (निजी सचिव, निजी सहायक, आशुलिपिक अधिकारियों/कर्मचारियों सहित) को कार्यालय आना होगा! सामाजिक दूरी संबंधी मानदडों के अनुपालन के संबंध में 2020 के कार्यालय आदेश स॑.66 एवं 45 के अन्य अनुदेश अपरिवर्तित रहेंगे।
3, सभी संबंधित कृपया उक्त अनुदेशों का कड़ाई से अनुपालन सुनिश्चित करें।
ई.सं.2020/ओ एंड एम/9/1
दिनांक: 26.09.2020
(बी. मजुमदार)
संयुक्त सचिव/रिलवे बोर्ड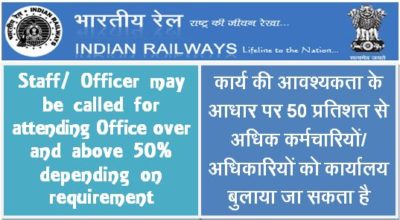 Source: https://indianrailways.gov.in/railwayboard/uploads/directorate/secretary_branches/Office_Order_2020/OO_68_2020.pdf