Sainik Schools in the Country: State/UT wise list of Sainik Schools currently functional and new proposed to be set up
GOVERNMENT OF INDIA
MINISTRY OF DEFENCE
DEPARTMENT OF DEFENCE
RAJYA SABHA
UNSTARRED QUESTION NO.46
TO BE ANSWERED ON 14th September, 2020
SAINIK SCHOOLS IN THE COUNTRY
46 DR. SANTANU SEN:
Will the Minister of DEFENCE be pleased to state:
(a) the details of the number of Sainik Schools currently functional in the country,   State/ UT-wise;
(b) the details of funds allocated, released and utilised by these schools in the last five years, year-wise;
(c) the details of new Sainik Schools proposed to be set up in the country;
(d) whether Government proposes to set up new Sainik School in the State of West Bengal; and
(e) if so, the details thereof and if not, the reasons therefor?
ANSWER
MINISTER OF STATE IN THE MINISTRY OF DEFENCE SHRI SHRIPAD NAIK
(a) There are 33 Sainik Schools functioning in the country. State/UT-wise details of Sainik Schools in the country is placed at Annexure-I.
(b) The details of financial assistance to Sainik Schools provided by Central Government in the last five years are as under:-
| | |
| --- | --- |
| Financial Year | Budget Allocated/Utilised (Rs. in Crore) |
| 2015-16 | Rs. 74.94 |
| 2016-17 | Rs. 81.38 |
| 2017-18 | Rs. 80.00 |
| 2018-19 | Rs. 84.22 |
| 2019-20 | Rs. 40.40 |
(c) Details  of  new  Sainik  Schools  proposed  to  be  set  up  in  the  country  is  placed  at Annexure-II.
(d) & (e): State of West Bengal has one Sainik School in Purulia district. Besides, In- principle approval for setting up a Sainik School in Darjeeling was conveyed to the State Government of West Bengal. There has been no response from the State Government of West Bengal, till date.
*****
LIST OF SAINIK SCHOOLS (STATE/UT-WISE) IN THE COUNTRY
S. No.
Name of School
State
1.
Sainik School Korukonda
Andhra Pradesh
2.
Sainik School Kalikiri
3.
Sainik School Goalpara
Assam
4.
Sainik School Nalanda
Bihar
5.
Sainik School Gopalganj
6.
Sainik School Ambikapur
Chhattisgarh
7.
Sainik School Balachadi
Gujarat
8.
Sainik School Kunjpura
Haryana
9.
Sainik School Rewari
10.
Sainik School SujanpurTira
Himachal Pradesh
11.
Sainik School Nagrota
Jammu & Kashmir
12.
Sainik School Tilaiya
Jharkhand
13.
Sainik School Bijapur
Karnataka
14.
Sainik School Kodagu
15.
Sainik School Kazhakootam
Kerala
16.
Sainik School Rewa
Madhya Pradesh
17.
Sainik School Satara
Maharashtra
18.
Sainik School Chandrapur
19.
Sainik School Imphal
Manipur
20.
Sainik School Chhingchhip
Mizoram
21.
Sainik School Punglwa
Nagaland
22.
Sainik School Bhubaneswar
Odisha
23.
Sainik School Sambalpur
24.
Sainik School Kapurthala
Punjab
25.
Sainik School Chittorgarh
Rajasthan
26.
Sainik School Jhunjhunu
27.
Sainik School Amaravathi Nagar
Tamil Nadu
28.
Sainik School Ghorakhal
Uttarakhand
29.
Sainik School Purulia
West Bengal
30.
Sainik School East Siang
Arunachal Pradesh
31.
Sainik School Mainpuri
 

Uttar Pradesh

32.
Sainik School Jhansi
33.
Sainik School Amethi
 *****
DETAILS OF NEW SAINIK SCHOOLS PROPOSED TO BE SET UP IN THE COUNTRY 
| | | | |
| --- | --- | --- | --- |
| S.No. | State | Location | Status |
| 1. | Rajasthan | Alwar | MoA signed |
| 2. | Uttarakhand | Rudraprayag | – Do- |
| 3. | Telangana | Warangal | – Do- |
| 4. | West Bengal | Darjeeling | MoA signing pending with the State Govt. after in-principle approval given |
| 5. | Assam | Golaghat | – Do- |
| 6. | Jharkhand | Godda | – Do- |
| 7. | Madhya Pradesh | Bhind | – Do- |
| 8. | Assam | Kokrajhar | – Do- |
*****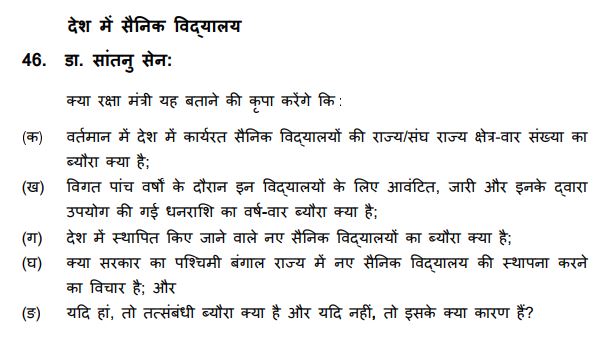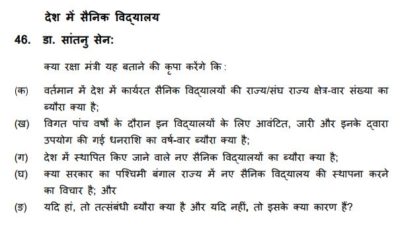 Source: English PDF Hindi PDF