Procedure for filling up the posts of Skilled Artisan against 25% quota: Railway Board Order RBE No. 94/2020
भारत सरकार MINISTRY OF RAILWAYS
रेल मंत्रालय MINISTRY OF RAILWAYS
(रेल बोर्ड RAILWAY BOARD)
RBE No. 94 of 2020
No.E(NG)I-2019/PM 7/3
New Delhi, dated November 2nd, 2020
The General Managers
All Zonal Railways.
(as per standard mailing list)
Sub: Procedure for filling up the posts of Skilled Artisan against 25% quota.
****
As the Railway Administration are aware, instructions contained in Railway Board's letter No.E(NG)I/ 96/PM 7/56 dated 02.02.1998 (RBE No.23/98) and Para 159 of IREM Vol.I, inter-alia provide that 25% posts of Technician-III in various Engineering Departments is filled up from serving semi-skilled and unskilled staff with educational qualification as laid down in the Apprentices Act and 50% by Promotion of staff in the lower grade as per prescribed procedure.
It has been reported that the Railways were facing difficulty in filling up the vacancies in the aforesaid category in P.Way of the Civil Engineering Department due to lack of basic knowledge of P.Way working among the eligible feeder categories.
The matter has accordingly been considered by the Railway Board in consultation with the Zonal Railways and the Civil Engineering Dte., and it has been decided that the category of Track Maintainers may also be made eligible to be considered for promotion to the posts of Technician-III (Level-2) in the P Way / Engineering Department.
Please acknowledge receipt.
This also disposes of South East Central Railway's letter No.P-HQ/RUL/ 105/13/1219 dated 01.04.2019
(D. Joseph)
Joint Director/Estt.(N)
Railway Board
No.E(NG)I-2019/PM 7/3
New Delhi, dated November 2 , 2020
Source: Click here to view/download the PDF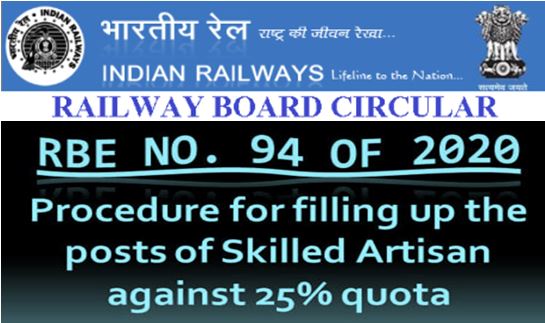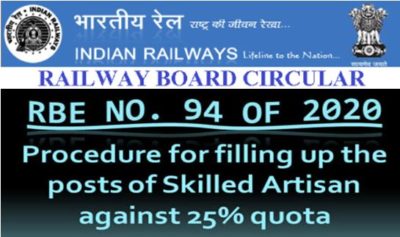 [https://indianrailways.gov.in/railwayboard/uploads/directorate/establishment/ENG-I/RBE%20No%2094%20of%202020.pdf]