Retention of files pertaining to Agreed/Secret List: Railway Board Order
GOVERNMENT OF INDIA
MINISTRY OF RAILWAYS
(RAILWAY BOARD)
No. 2019/V4/IRVM/1/2
New Delhi, Date: 16.12.2020
The SDGMs/CVOs
All Zonal Railways/PUs ,
Sub.: Retention of files pertaining to Agreed/Secret List
A reference has been received from one of the Zonal Railways regarding retention of files relating to Agreed/Secret List.
The matter has been examined in Board's office and it has been decided that records of Agreed/Secret List shall be preserved for a period of 10 years after closure. Para 827 of IRVM-2018 may be referred  for interpretation of the term "closure".  This has the approval of PED(Vig.) and CVO/IR.
Sd/-
(Srinivas Malladi)
Director Vigilance Engg(I)
Railway Board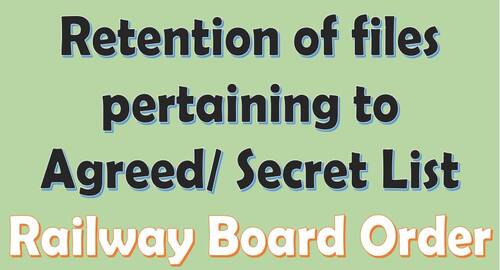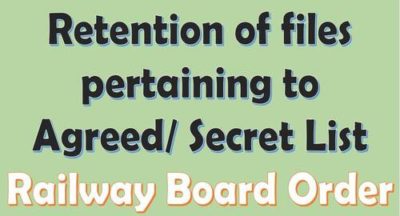 Source: Railway Board PDF