Recovery of Dress allowance from leave encashment in r/o retiring Industrial employees of MES: PCDA (CC) Orders not to effect recovery
Office of the Principal Controller of Defence Accounts (Central Command)
Cariappa Road, Cantt., Lucknow, Pin Code – 226002
No. PT/3088/Gen Corr/2021
Date 19/01/2021
To,
1. The Area Accounts Office(CC),
Allahabad
2. The Area Accounts Office(CC),
Kanpur
3. All AO GEs
Subject : Recovery of Dress allowance from leave encashment in r/o retiring Industrial employees of MES.
Ref. :- This office letter no. PT/3088/CGDA/Vol-IX dated 07/12/2020.
View: Recovery of Dress Allowance from Leave Encashment Bill i.r.o. Retired Employees सेवानिवृत्‍त कर्मचारियों के अर्जित अवकाश नगदीकरण बिल से वर्दी भत्ता की कटौती
It was advised vide the letter quoted under above reference that "Recovery amount may only be kept reserve from leave encashment and rest of the benefit be released in r/o the employees who retire and leave encashment claims being received."
2. The above decision of the competent authority at this end was also conveyed to Hqrs office, vide its letter AT/Army-BR/A/Civ/2366/Dress Allow/Vol-II dated 05/01/2021 have intimated that the recovery from leave encashment of retiring employee may lead to contempt of court.
3. In view of the above, it is advised not to effect recovery of the dress allowance from leave encasement of retiring industrial employees of MES and the recovery if effected in any case may be refunded to comply with the stay on recovery of dress allowance amount already paid to Industrial employees of MES as directed by hon'ble CAT, Lucknow.
ACDA
Copy to,
The Officer-in-charge, for uploaded the same in PCDA website.
OA Cell( Local)
Accounts Officer(PT)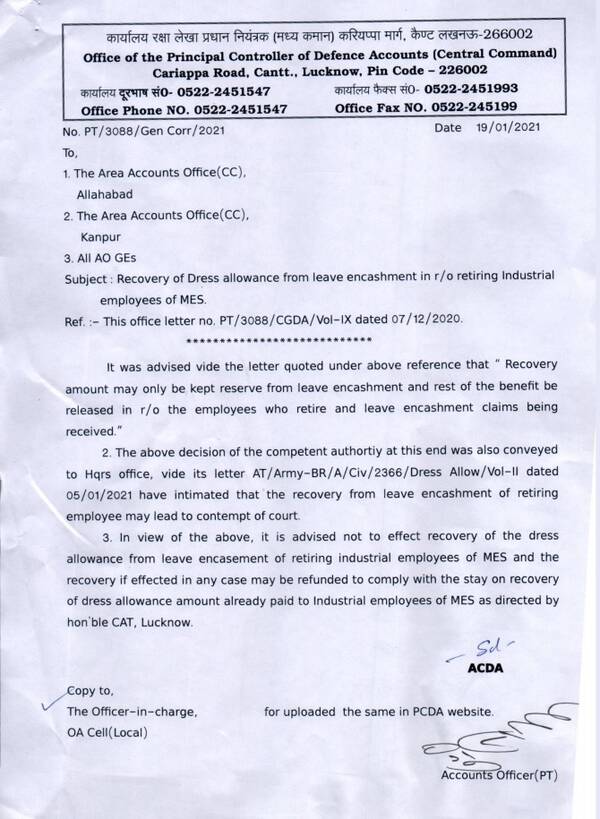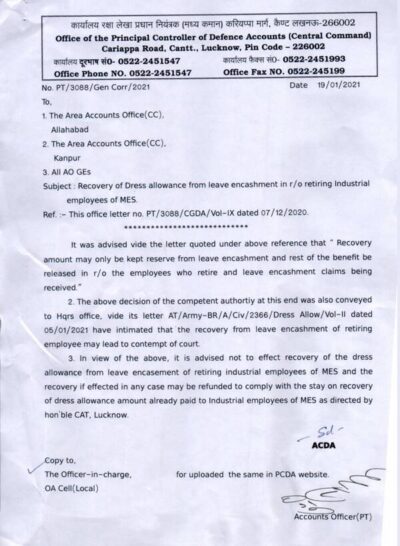 Source: http://pcdacc.gov.in/download/circularsnew/pay_tech_190121_0001.pdf