Time standards for processing bills and review of high value sanctions as per Civil Accounts Manual: FinMin Order
F.NO.TA-2-01002/1/2020-TA-II/ 2 2
Ministry of Finance
Department of Expenditure
Controller General of Accounts
Dated 20th January, 2021,
New Delhi.
OFFICE MEMORANDUM
Subject: Time standards for processing bills and review of high value sanctions-reg.
Attention is invited to para 2.3.1 of CAM wherein it is mentioned that bills should be passed for payment and payment issued within a maximum of seven working days of their receipt. Moreover, it is obligatory to make payments without any delay for purchases made on GeM. As per DoE OM dated January, 2020 on GeM, two (2) working days are prescribed for PAO for triggering payment through PFMS for crediting to the supplier's account.
2. Further, as per the para 4.4.3(e) of CAM, all high-value sanctions above Rs.50 lakhs to Rs.5 crore should be reviewed by Dy.CAs and those above Rs. 5 crore by the Pr.CCAs/CCAs/CAs. However, no timelines have been prescribed in CAM for review of sanction by Dy.CA/CAs/CCA/Pr.CCA.
3. This Office is considering the review of the time standards set for processing bills by PAOs. It is proposed that bills should be passed for payment within a maximum of three working days of their receipt. Payments for purchases made on GeM be made within 2 working days of its receipt through PFMS from DDO. In case of high value sanctions involve review by Dy.CA/CA/CCA/Pr.CCA as the case may be, an additional two days time shall be given. Similar timelines for processing of Bills may also be prescribed for CDDOs.
4. All Pr.CCAs/CCAs/CASs(IC) are requested to furnish their comments on the above proposal (para 3) by 31st January, 2021. The comments may be sent to neelakantan.r[at]nic.in.
This issues with the approval of competent authority.
(Ashish Kr. Singh)
Dy.Controller General of Accounts (TA)
To
All Pr. CCAs/CCAs/CAS(IC).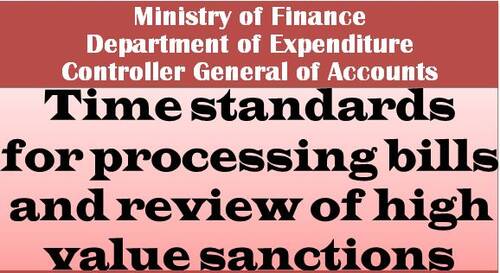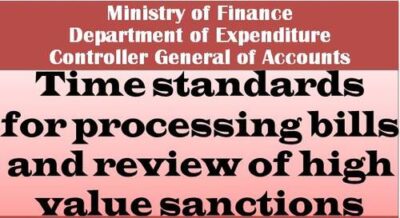 Source: [http://cga.gov.in//writereaddata/file/TA22dt20012021.pdf]