Details of Examinations by Railway Recruitment Board: Notification with date, number of posts etc.
GOVERNMENT OF INDIA
MINISTRY OF RAILWAYS
RAJYA SABHA
UNSTARRED QUESTION No. 1396
ANSWERED ON 12.02.2021
EXAMINATIONS BY RAILWAY RECRUITMENT BOARD
1396. SHRI ELAMARAM KAREEM:
Will the Minister of RAILWAYS be pleased to state:
(a) how many recruitment Notifications were released by RRB in last three years, details of each Notification with date, number of posts, number of candidates applied and selected;
(b) whether examinations have been conducted for all the Notifications of RRB, details of such Notifications for which examination has not been conducted and expected date for exams in each advertisement;
(c) details of recruitment examinations conducted by RRB where final result is announced and passed candidates are employed during this period; and
(d) year-wise data on number of persons recruited to Railways through RRB and number of contractual appointments for the last five years?
ANSWER
MINISTER OF RAILWAYS, COMMERCE & INDUSTRY AND CONSUMER AFFAIRS, FOOD & PUBLIC DISTRIBUTION (SHRI PIYUSH GOYAL)
(a) to (d): A Statement is laid on the Table of the House.
STATEMENT REFERRED TO IN REPLY TO PARTS (a) TO (d) OF UNSTARRED QUESTION NO. 1396 BY SHRI ELAMARAM KAREEM ANSWERED IN RAJYA SABHA ON 12.02.2021 REGARDING EXAMINATIONS BY RAILWAY RECRUITMENT BOARD
(a) to (c): The details of the Seven Centralized Employment Notifications (CENs) released by RRBs in the last 3 years are as follows:-
  Year
  CEN
Date of Notification
Number of Vacancy
Number of applications received
Candidates Empanelled
Present status of recruitment
    2017-
01/2018
  03.02.2018
  64371
  4758218
  57498
Recruitment
ALP &
Process
Technicians
completed.
02/2018Level-1 (erstwhile Group 'D')
10.02.2018
63202
18982719
  58266
Recruitment Process completed.
2018
                    2018-
03/2018JE/DMS/CMA
29.12.2018
  13538
  2492554
  13382
Recruitment Process completed.
02/2019 Para-medical categories
  23.02.2019
  1923
  447593
  1793
Recruitment Process completed.
03/2019 Isolated & Ministerial categories
    23.02.2019
    1663
    102940
At examination stage. Computer Based Test (CBT) completed on 18.12.2020.
01/2019 Non Technical Popular Categories (NTPC)- Graduate & Under Graduate level
      28.02.2019
      35281
      12630885
    At examination stage. CBT commenced from 28.12.2020.
2019
RRC-01/2019 Level-1 (erstwhile Group 'D')
  23.02.2019
  103769
  11570444
Examination Conducting Agency (ECA) appointed.
2019- 2020
No fresh CEN issued.
(d): The details of number of persons empanelled/ recruited through RRBs and number of contractual appointments for the last 5 years are as under:
| | | |
| --- | --- | --- |
| Year | Empanelment/ Recruitment by RRBs | No. of Contractual Employees Engaged |
| 2015-2016 | 27995 | 1930 |
| 2016-2017 | 19587 | 3115 |
| 2017-2018 | 19100 | 4903 |
| 2018-2019 | 1727 | 11302 |
| 2019-2020 | 131429* | 12622 |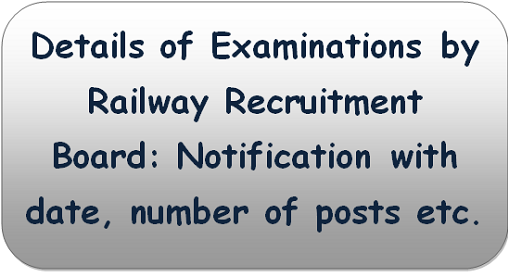 Source: RAJYA SABHA