Introduction of e-Privilege Pass/PTO in HRMS Module – Hardship faced by Railway employees: IRTSA
INDIAN RAILWAYS TECHNICAL SUPERVISORS ASSOCIATION
(Estd. 1965, Regd. No.1329)
C.Hq. 32, Phase 6, Mohali, Chandigarh-160055.
No:IRTSA/CHQ/Memo. 2021-2
Date:11.02.2021
Director General (HR)
Railway Board,
Respected Sir,
Sub: Introduction of e-Privilege Pass/PTO in HRMS Module- Hardship faced by employees.
Ref: Railway Board's letter No.PC-VII/2020/HRMS/6 dated 14.08.2020, 16.11.2020 & 22.01.2021.
1) Indian Railways have launched e-Privilege Pass/PTO module on 24th August 2020 through Human Resource Management System. This facility is expected to help Railway employees in using their pass hassle free and simultaneously make working of all officials involved in issuance of Pass smooth.
2) Issuance of manual pass was initially restricted upto 31.10.2020. Later the deadline was extended upto 31.12.2020. Further in exceptional and emergency cases where e-Pass could not be issued due to non-completion of data entry or any other unforeseen technical problems which could not be resolved within a stipulated time frame, physical passes may be issued till 28.02.2021.
3) Instead of creating a hassle free system, employees are put into severe hardship due to multiple problems faced by them in getting their privilege passes and PTOs as listed below,
a) For many of the employees, their details and their eligible family members' details are either missing or entered wrongly in the pass module.
b) Generation of OTP during the time of reservation at PRS counters is causing severe problem.
c) In mobile application of HRMS no provision is available for the employee to apply directly for e-Pass, view the status of his application, download the e-pass and do the reservation by generation of OTP.
d) Provision for cancellation of reservation and doing the reservation for the second time is not available in the module.
e) HRMS Pass Module is not accepting same station code or same Municipal area twice.
f) Extant break journey and enroute policy during booking on Privilege pass is not followed.
g) Entitlement for Mail & Express AC Chair car is not available in HRMS module. So employees are not able to reserve through IRCTC web site and PRS counters.
h) Many Special Trains operated throughout Indian Railways are not available in e-pass module of HRMS.
i) PRS system is not accepting name of persons in the pass if it exceeds 16 digit characters.
j) There is no alternate provision to get Pass/PTO in case of failure of internet connection or in places where there is no internet connection / poor internet connection.
4) Hence it is requested that,
a) Issue of manual Pass & PTO may please be permitted as per employees' choice.
b) Lacunas of e-Privilege Pass/PTO in HRMS Module listed in para 3 may please be cleared at the earliest possible time and the system should be made suitable to follow all existing pass rules.
Validation of Privilege Passes/PTOs in Festival/Special Trains: AIRF demands to restore travelling privilege of the Railway Servants
Thanking you
Yours' faithfully,
HARCHANDAN SINGH,
General Secretary.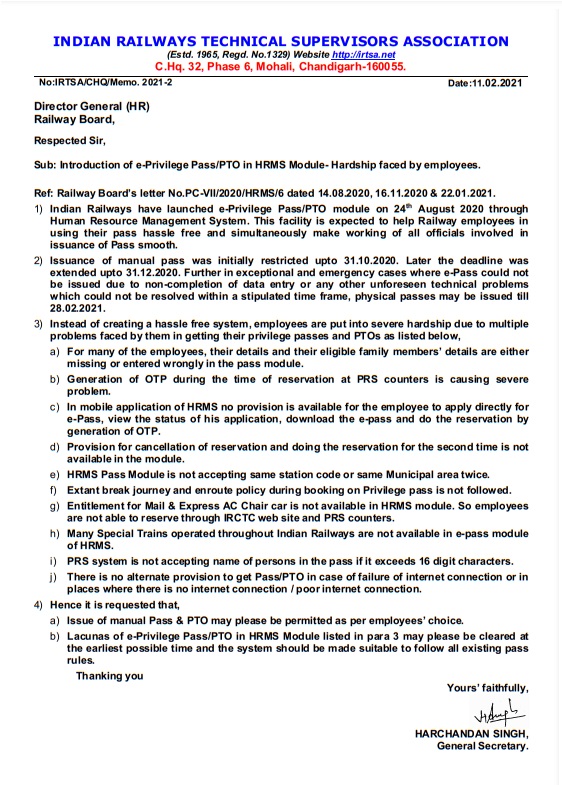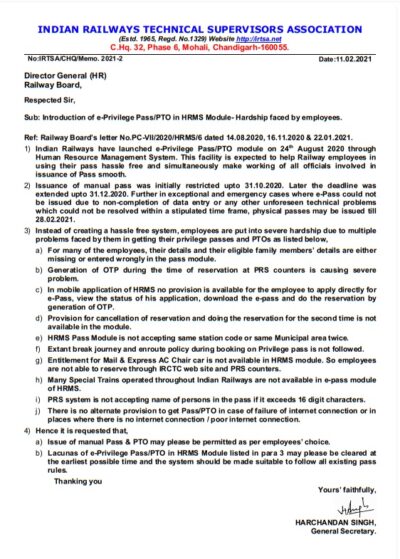 Source: IRTSA