Facilities and Grievances Redressal Mechanism to Armed Forces personnel
GOVERNMENT OF INDIA
MINISTRY OF DEFENCE
LOK SABHA
UNSTARRED QUESTION NO: 279
ANSWERED ON: 03.02.2021
Facilities to Soldiers
Poonam (Mahajan) Vajendla Rao
Will the Minister of DEFENCE be pleased to state:-
(a) the details of facilities being provided to Indian soldiers according to their eligibility;
(b) whether the Government has received any complaint in regard to Providing such facilities to soldiers as per their eligibility;
(c) if so, the details thereof the and during last three years and the current year;
(d) the details of action taken against the erring personnel in this case,during the said period;and
(e) the steps taken by the Government to monitor complaints of soldiers?
ANSWER
MINISTER OF STATE (SHRI SHRIPAD NAIK)
IN THE MINISTRY OF DEFENCE
(a) Armed Forces personnel are provided various facilities as per the terms and conditions of service. These facilities include accommodation, ration, messing, education, sports and adventure, recreation, CSD, medical, LTC, library, postal etc.
(b) No, Sir.
(c) & (d): Does not arise.
(e) A well-established grievances redressal mechanism exists in the armed forces to dispose of such complaints in a time bound manner as and when received.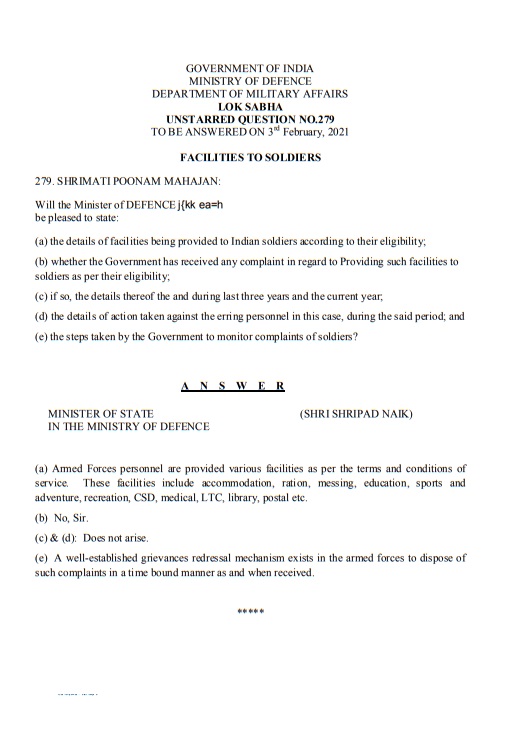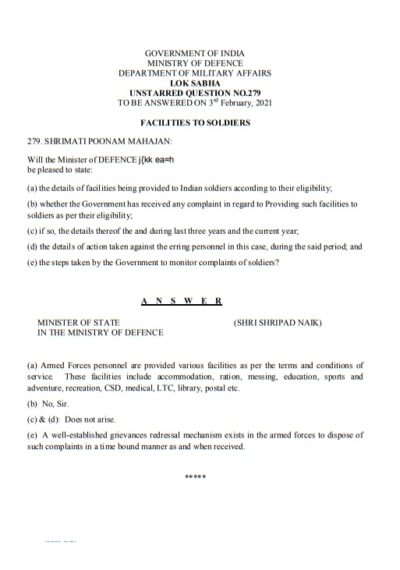 Source: LOK SABHA