Roadmap proposed by the Government for promotions of staffs: पदोन्नति के लिए सरकार द्वारा प्रस्तावित रोडमैप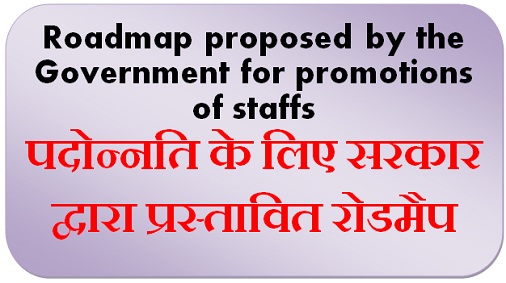 GOVERNMENT OF INDIA
MINISTRY OF PERSONNEL, PUBLIC GRIEVANCES AND PENSIONS
LOK SABHA
UNSTARRED QUESTION NO: 1415
ANSWERED ON: 10.02.2021
Promotions of Staff
Raksha Nikhil Khadse
Will the Minister of PERSONNEL, PUBLIC GRIEVANCES AND PENSIONS be pleased to state:-
(a) whether in many Government Departments, promotions of the working staff have not been done even after more than 12 to 20 years of service especially for technical staff like in NIFT working under the Ministry of Textiles and if so, the details thereof;
(b) whether the Government proposes to identify such posts which are being served since long without promotions in Government Departments;
(c) if so, the details thereof; and
(d) the roadmap proposed by the Government for promotions in these posts?
ANSWER
MINISTER OF STATE IN THE MINISTRY OF PERSONNEL, PUBLIC GRIEVANCES AND PENSIONS AND MINISTER OF STATE IN THE PRIME MINISTER'S OFFICE (DR. JITENDRA SINGH)
(a) to (d): The Department of Personnel and Training (DoP&T) has been impressing upon Ministries/Departments from time to time regarding timely conduct of meetings of Departmental Promotion Committee (DPC). As per instructions issued by DoP&T, the Cadre Controlling Authorities (CCA) in Ministries/Departments of Government of India are responsible for ensuring conduct of regular DPCs in accordance with the guidelines and grant of timely promotions. To further streamline the procedure, instructions were issued by DoP&T vide OM no. 22011/4/2013-Estt.(D) dated 08.05.2017 prescribing a Model Calendar for timely convening of DPC meetings, and advising Ministries/Departments to ensure strict adherence to the Model Calendar.
In so far as Ministry of Textiles is concerned, it has been informed by Ministry of Textiles that promotions to the staff of DG NIFT, under that Ministry are given from time to time as per the recruitment rules of various posts and subject to availability of vacancies. However, there are some isolated posts including technical posts without promotional avenues. Moreover, in case of Indian Institute of Handloom Technology (IIHT) under O/o Development Commissioner (Handloom), there is only one technical staff holding a Group "B" (Gazetted) post of Junior Lecturer (Textile Processing) (Level-7 of Pay Matrix), and who could not be promoted to the next higher grade of Senior Lecturer (Textile Processing) (Level-10 of Pay Matrix, Group-A) as there is only one post in that grade under the promotion quota, which is already filled as per the extant recruitment rules.
Hence, the incumbent is holding the same post of Junior Lecturer (Textile Processing) for the past 20 years since his appointment in Govt. service w.e.f. 08.12.2000. The official is otherwise eligible for grant of benefits under the Modified Assured Career Progression (MACP) Scheme of DoP&T.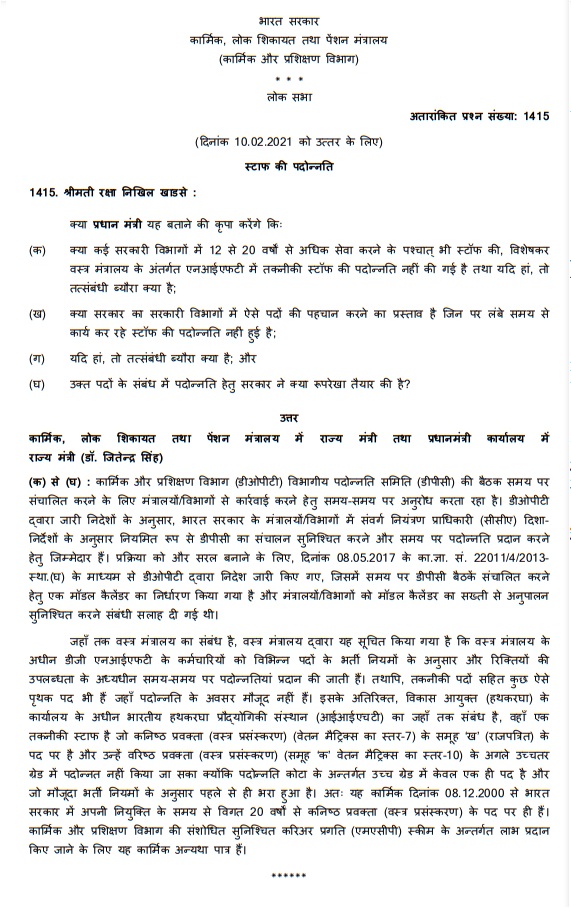 Source: LOK SABHA