Status of Petitions filed challenging the RRB Notifications i.r.o. reservations for candidates with disabilities
GOVERNMENT OF INDIA
MINISTRY OF RAILWAYS
LOK SABHA UNSTARRED QUESTION NO.1610
TO BE ANSWERED ON 10.02.2021
STATUS OF PETITIONS
1610. SHRI NATARAJAN P.R.:
Will the Minister of RAILWAYS be pleased to state:
(a) whether any petitions had been filed in the court challenging the notifications issued by the Railway Recruitment Board in 2018 and 2019 in respect of reservations for candidates with disabilities;
(b) if so, the details thereof; and
(c) the time when these petitions were filed and the present status of the case?
ANSWER
MINISTER OF RAILWAYS, COMMERCE & INDUSTRY AND CONSUMER AFFAIRS, FOOD & PUBLIC DISTRIBUTION
(SHRI PIYUSH GOYAL)
(a) to (c) : A Statement is laid on the Table of the House.
*****
(a) to (c) Yes, Sir. A total of six petitions have been filed challenging the notifications issued by the Railway Recruitment Board in 2018 and 2019 in respect of reservations for candidates with disabilities. Details of these petitions are as under:
| | | | |
| --- | --- | --- | --- |
| S.No. | Case details | Date of filing | Present status |
| 1 | Writ Petition No. 1855/2018 filed before the Hon'ble High Court of Delhi. | 26.02.2018 | The petitioner has sought revision of vacancies notified for visually handicapped candidates in two Centralised Employment Notifications (CEN) i.e. CEN- 01/2018 and CEN- 02/2018). Case was disposed vide judgement dated 29.01.2019. In compliance of Hon'ble Court's directions, total vacancies reserved for Persons with Benchmark Disabilities (PwBD) in these notifications were revised upwards by Railways. |
| 2 | OA (Original Application) No. 252/2019 filed in Hon'ble Central Administrative Tribunal/ Cuttack. | 09.04.2019 | The applicant is seeking reservation for persons with Intellectual disabilities in vacancies notified vide CEN- 03/2019 & CEN- RRC-01/2019.The case is sub judice. |
| 3 | OA No. 628/2020filed in Hon'ble Central Administrative Tribunal/ Ernakulam. | 22.12.2020 | The applicant has pleaded that various categories of mental illness are not identified for vacancies notified vide CEN No. 02/2018. The case is sub judice. |
| 4 | WP No.32902/2019before Hon'ble High Court of Madras. | 25.11.2019 | The applicant filed OA No. 310/01064/2018 & MAs 216,337/2019 seeking reservation for One Arm Locomotor disability in CEN No. 02/2018 which was dismissed by Hon'ble Central Administrative Tribunal, Chennai Bench. Aggrieved by the impugned order dated 06.11.2019 of Hon'ble Central Administrative Tribunal, Chennai Bench, the applicant has filed writ petition in the Hon'ble High Court, Madras. The case is sub judice. |
| 5 | WP (Civil) No. 5208/2019 filed in Hon'ble High Court of Delhi. | 10.05.2019 | The case has been filed seeking reservation for persons with autism, intellectual disability, specific learning disability and mental illness in vacancies notified vide CEN- 02/2018, CEN-01/2019 and CEN-RRC-01/2019. The case is sub judice. |
| 6 | WP (Civil) No. 40/2019 filed in Hon'ble High Court of Delhi. | 21.12.2019 | The applicants have pleaded for redressal of multiple grievances for Persons with Benchmark Disabilities in connection with recruitment done against Centralised Employment Notification (CEN) No. 02/2018.The case is sub judice. |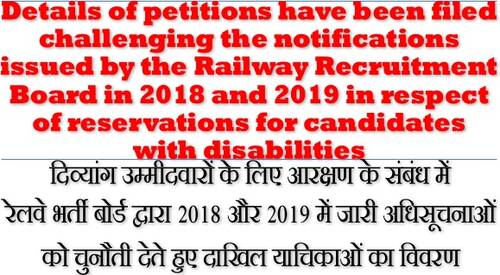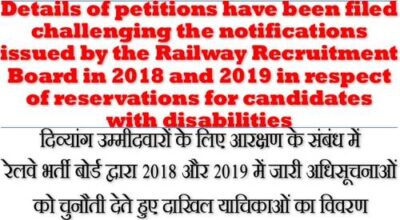 Source: Lok Sabha PDF