Employees recruited by the DoT and sent for training prior to 01.10.2000 and who Joined duty after the formation of BSNL
BSNL EMPLOYEES UNION
Central Head Quarters
Main Recognized Representative Union
Dada Ghosh Bhawan, 2151/1, New Patel Nagar,
Opp. Shadipur Bus Depot, New Delhi-110008
BSNULEU/S 12 (Rect, )
Dated: 24.03.2021
To
Shri Arvind Vadnerkar,
Director (NR), BSNL
Bharat Sanchar Bhawan,
H.C Mathur Lane,
Janpath, New Delhi — 110 001
Sir,
Sub:- Employees recruited by the DoT and sent for training prior to 01.10.2000 and who Joined duty after the formation of BSNL — requesting to treat them as DoT recruitees absorbed in BSNL, based on the order the Hon'ble Kerala and Rajasthan High Courts — reg.
We wish to bring the following burning issue to your kind notice, for favour of early solution. The issue was also discussed by BSNLEU, in the Formal Meeting held online with the Director (HR) on 28.08.2020 . We regret to say that no headway is made on this issue, as a result of which the affected employees are languishing. Details of the case are as follows: –
There are several officials working in BSNL, who were recruited on Compassionate Grounds by the DoT and were sent for pre-appointment training prior to the formation of BSNL, i.e., before 01.10.2000. However, before the completion of their training, BSNL was formed. Thus, they joined duty in BSNL. All these officials should be treated as DoT recruitees, since they were recruited and sent for training by the DoT. However, these officials are treated as BSNL recruitees, as a result of which their eligibility to government pension is jeoparidised. The affected officials have approached various courts. It is important to mention that the Hon'ble CAT, Jaipur, Hon'ble CAT, Chandigarh, Hon'ble High Court of Rajasthan and Hon'ble High Court of Kerala have held that these officials should be treated as DoT recruitees. The Hon'ble Kerala High Court has observed as follows in it's judgement.
",,,17. We do not hence find any reason for Union of India to take a view, in the case of the petitioners who were recruited and dispatched for induction training, from being considered differently from those positioned identically when there was a change effected in the pension rules with effect from 01.01.2004; as revealed from the O.M relied on by the Jaipur Bench of the Administrative Tribunal."
The judgements given by the various courts as mentioned above, speak volumes about the justification to treat these employees as DoT recruitees. However, instead of implementing the judgement, BSNL has filed an appeal in the Hon'bie Supreme Court. Hence, it is requested that BSNL should take the needful steps to pave the way for the implementation of the judgements of the Hon'ble Rajasthan High Court and Hon'ble Kerala High Court.
In the Formal meeting held online on 28.08.2020, the Director (HR) was kind enough to assure that, steps would be taken to expedite the case going on in the Hon'ble Supreme Court, so that the affected employees would get justice. However, we would like to bring to your kind notice that no worth-mentioning development has come. In view of that, we would live to urge upon you to kindly bestow your personal attention on this case, so that the affected employees would pet relief without further delay.
Thanking you,
Yours sincerely,
[P. Abhimanyu]
General Secretary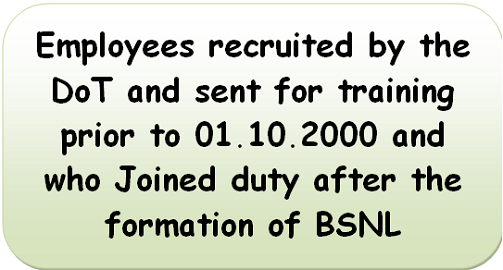 Source: [https://www.bsnleu.in/images/postimage/postfile/letter%20to%20Director%20(HR).pdf]