Nurse Practitioner in Midwifery (NPM) Program Regulations, 2020 – INDIAN NURSING COUNCIL NOTIFICATION 6th January, 2021
INDIAN NURSING COUNCIL
NOTIFICATION
New Delhi, the 6th January, 2021
Indian Nursing Council {Nurse Practitioner in Midwifery (NPM) Program}, Regulations, 2020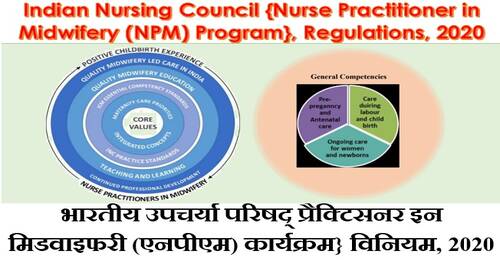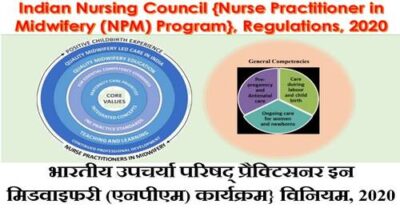 F.No. 11-1/2019-INC:—In exercise of the powers conferred by sub-section (1) of Section 16 of Indian Nursing Council Act, 1947 (XLVIII of 1947) as amended from time to time, the Indian Nursing Council hereby makes the following regulations namely:—
Short Title and Commencement—
i. These Regulations may be called Indian Nursing Council {Nurse Practitioner in Midwifery (NPM)
Program}, Regulations, 2020
ii. These Regulations shall come into force on the date of notification of the same in the Official Gazette of India.
Definitions
In these Regulations, unless the context otherwise requires,
i. 'the Council' means the Indian Nursing Council constituted under the Act;
ii. 'SNRC' means the State Nurse and Midwives Registration Council, by whichever name constituted, by the respective State Governments;
iii. 'RN & RM' means a Registered Nurse and Registered Midwife (RN & RM) and denotes a nurse who has completed successfully, recognised Bachelor of Nursing (B.Sc. Nursing) or Diploma in General Nursing and Midwifery (GNM) course, as prescribed by the Council and is registered in a SNRC as Registered Nurse and Registered Midwife;
1. INTRODUCTION AND BACKGROUND
1.1 Introduction
In 2015, India became one of the 193 countries to commit to the Sustainable Development Goals (SDGs), which aim to transform the world by 2030 to a more prosperous, more equal, and more secure planet for all. Needless to say, India's responsibility is immense as these ambitious goals cannot be achieved without accelerating progress in one- sixth of the world that resides in our country.
Health is central to commitments made by the Government of India. For us to be able to ensure healthy lives and promote wellbeing for all at all ages, it is critical to focus on improving our core health indicators, which include maternal and infant mortality.
When a pregnant woman enters the health system, she puts her faith in the system to receive high quality services for herself and her newborn. Responding to this faith India has strengthened maternal and child health services in our country under the National Health Mission. India has made tremendous progress over the last few decades in increasing institutional deliveries through the National Health Mission and schemes like the Janani Suraksha Yojana and Janani Shishu Suraksha Karyakram, and this has greatly reduced the maternal and infant mortality. India's maternal mortality ratio has declined from 254 per lakh live births in 2004-06 to 130 per lakh live births in 2014-16 (Sample Registration System. India has shown impressive gains in reduction of Maternal Mortality evident from the fact that the compound annual rate of decline of MMR has increased significantly from 5.8% during (2007-09 to 2011-13) to 8.01% (2011-13 to 2014-16). Similar achievements are also visible in reduction of under-five and infant mortality rates.
Investments on maternal and child health remain a key focus area under the National Health Mission. Operationalizing First Referral Units, new Maternal and Child Health Wings, Obstetric High Dependency Units and Intensive Care Units, capacity building initiatives such as Dakshata trainings, quality antenatal care strengthening programmes such as the Pradhan Mantri Surakshit Matritva Abhiyan etc. continue to be a key priority.
In addition to above, the Government of India has recently launched the LaQshya – Labor Room and Maternity Operation Theatre Quality Improvement Initiative. Substantial global evidence exists that addressing the time around and immediately after childbirth is critical for saving the lives of mothers and newborns. Studies conducted by White Ribbon Alliance have also highlighted the need to focus on respectful maternity care. The LaQshya programme has thus been launched to provide quality intrapartum and immediate postpartum care and promote respectful maternity care.
Despite the tremendous progress, nearly 32,000 pregnant women each year still lose their lives during pregnancy, childbirth and the postnatal period each year. In addition, 5,90,000 newborns die every year in the first month of life. Additional efforts are needed in India to increase Universal Health Coverage (UHC) and to achieve Sustainable Development Goals (SDGs) for maternal and newborn and child health. The National Health Policy 2017 aims at the reduction of maternal mortality ration to 100/lakh live births by 2020.
The survival of women and newborns is closely correlated with the care and attention received during pregnancy and, most importantly, at the time of delivery. Delayed management of cases, due to lack of access to skilled care, is one of the major reasons for the deaths, particularly in the rural areas. Skilled and respectful care during childbirth is important because millions of women and newborns develop serious and hard to predict complications before, during or immediately after delivery.
Evidence shows that quality midwifery care, provided by midwives educated to international standards, reduces maternal and newborn mortality and stillbirth rates by 83% and with 56 improved maternal and newborn health outcomes. It is also evident that 87% services can be delivered by midwives educated to international standards. There also has been an increasing body of evidence globally that Midwife Led Care Units (MLCUs) can address maternal and neonatal mortality and morbidity by promoting quality and continuity of care through provision of women-centric care and promoting natural births. Where a model of Midwife Led Continuity of Care (MLCC) is introduced, this reduces preterm birth by 24%. Beyond survival, quality midwifery care improves breastfeeding rates and psychosocial outcomes, and reduces the use of unnecessary interventions, in particular caesarean sections and increases access to family planning (Lancet Series, 2014; UNFPA, 2014 & WHO 2017).
The International Confederation of Midwives outline the Midwifery philosophy and model of care1. Midwifery has a unique body of knowledge, skills and professional attitudes drawn from disciplines shared by other health professions such as science and sociology, but practised by midwives within a professional framework of autonomy, partnership, ethics and accountability. Midwifery is an approach to care of women and their newborn infants whereby midwives: optimise the normal biological, psychological, social and cultural processes of childbirth and early life of the newborn; work in partnership with women, respecting the individual circumstances and views of each woman; promote women's personal capabilities to care for themselves and their families; collaborate with midwives and other health professionals as necessary to provide holistic care that meets each woman's individual needs. Midwifery care is provided by an autonomous midwife.
1.2 The 'Midwifery Services Initiative' of India
Considering the need for trained human resources to provide quality care to 30 million pregnancies every year in India and at the same time recognizing the challenges earlier, Government of India has proposed an alternative model of service provision for strengthening reproductive, maternal and neonatal health services by nurse practitioners in midwifery through Midwife Led Care Units (MLCUs). Quality maternity care provided by midwives through the MLCUs is vital to this transformation. The recognition that quality of care will not only save lives but will also provide a positive experience of childbirth means that the change required must be transformative. This will require making fundamental change to the way services are delivered, and the culture of care provided to women. The 'Guidelines on Midwifery Services in India' set transformative change must be at the heart of midwifery education.
The 'Midwifery Services Initiative' aims to create a new cadre of midwives titled "Nurse Practitioner in Midwifery" (NPM) who are skilled in accordance with ICM competencies, knowledgeable and capable of providing compassionate women centered, reproductive, maternal and newborn health services (RMNCH) and to develop an enabling environment for integration of this cadre into the public health system in order to achieve the SDGs for maternal and newborn health (MoHFW, 2018).
1.3 Preparing Nurse Practitioners in Midwifery (NPM) for the future of India
Quality education is essential to prepare international-standard midwives complying with the ICM competencies with the knowledge and skills to provide the full scope of midwifery care that women and newborns need. Evidence indicates that the optimum duration of training required to acquire needed midwifery skills and competencies is 18 months. The existing one year Nurse Practitioner in Midwifery post basic diploma program of the Council is re- designed and upgraded to an 18 month intensive residency program to develop more NPMs for providing respectful, highest standards of quality and evidence based care at the institution and community levels with specific emphasis on providing safe and competent midwifery care. The essential components for quality midwifery based on the Quality Maternal and Newborn Care (QMNC) framework is integrated in the curriculum.
The Nurse Practitioner in Midwifery (NPM) will be responsible for promotion of health of women throughout their life cycle, with special focus on women during their childbearing years and their newborns. She will be responsible for providing respectful maternity care during preconception, pregnancy, childbirth, and post-natal period including the care of newborn. She will be responsible and accountable for her practice. The NPMs will practice independently and collaboratively with the doctors in the hospital and within the existing peripheral health system consisting of skilled birth attendants, auxiliary nurse midwives, nurses, doctors and specialists. She can be posted in a facility where no obstetricians are available and provide midwifery care based on predetermined midwifery care protocols alongside treatment protocols and drugs permitted for use by NPMs.
Responding to this urgent need, the NPM curriculum is designed in line with ICM competencies for midwives that emphasizes humanizing transformation. The curriculum which aims to strengthen the technical knowledge, clinical skills and attitude of the NPMs in midwifery. The training aims to prepare competent NPMs, who can provide quality and compassionate care to the mother, neonate and family, demonstrating international standards of midwifery practice. The program will also equip the NPMs to utilize the principles of effective communication, counseling, leadership, supervision and management and enable them to understand and utilize the research end evidence relevant to midwifery practice.
2. PHILOSOPHY AND VISION
2.1 Philosophy
The Council believes that strengthening midwifery education to International Standards is a key step to improving quality of women centered respectful care and reducing maternal and newborn mortality and morbidity. The Council believes that registered nurses need to be given additional training to work as nurse practitioner in midwifery in clinical and community settings to provide Midwifery Led Continuum of Care (MLCC) bringing about transformation in terms of humanization and autonomous role in the midwifery services provided by the NPMs as per the aspirations of Government of India (GoI).
The Council believes that competency-based training integrating ICM competencies would enable the Nurse Practitioners in Midwifery (NPM) to demonstrate knowledge, skills and behaviors based on sound evidence-based knowledge, focusing on the concept of 'women-centered and respectful care' that is central to midwifery practice. The NPMs will be able to combine their knowledge, skills with interpersonal, social and cultural competencies and work as part of inter-professional team.
The philosophy of the midwifery training is underpinned by the internationally accepted definitions of a midwife, incorporating the globally understood key elements of midwifery care. The ICM defines a midwife as: ' a person who has successfully completed a midwifery education program that is duly recognized in the country where it is located and that is based on the ICM Essential Competencies for Basic Midwifery Practice and the framework of the ICM Global Standards for Midwifery Education; who has acquired the requisite qualifications to be registered and/or legally licensed to practice midwifery and use the title 'midwife' and who demonstrates competency in the practice of midwifery'. This philosophy is adapted by the Council's philosophy in preparing NPMs through the proposed curriculum.
The Council also believes that a variety of innovative educational strategies can be used in the theoretical and clinical settings to provide best theoretical and clinical learning experiences. The teaching learning approaches will integrate adult learning principles, competency-based education, collaborative learning, experiential learning, mastery learning and self-directed learning. The Council also believes that effective collaborative and interdisciplinary learning can be facilitated by involving medical and other faculty from related disciplines such as Obstetrics and Gynecology, Pediatrics and Public Health. It is hoped to facilitate developing policies towards creation of cadre positions for appropriate placement of these NPMs to function in Midwife Led Care Units (MLCUs) with appropriate career progression opportunities.
2.2 Vision
The program is envisioned to provide high quality education, which meets international standards and prepares NPMs to work autonomously to their full scope of practice in respectful partnerships with women and in collaboration with the obstetrician, pediatrician and the other health care team members when indicated, to provide compassionate, quality, evidence-based, woman-centered and family-focused care during pregnancy, labour and postnatal period. The program prepares NPMs to champion positive childbirth experience, optimal transition to parenthood and safe reproductive health care.
The nurse practitioners in midwifery from this program will meet educational and practice standards of the Council with focus on the ICM Essential Competencies for Midwifery Practice. They will uphold recognized standards of midwifery practice, embrace, support the qualities and values of the midwifery practice, and be motivated, flexible and evidence-informed practitioners. They will be prepared to grow and advance through learning and continuing experience.
The NPMs are equipped to work within midwifery led care and continuity of care models in India, both with in the newly formed midwife-led care units within public health facilities and/or integrated into primary health care within the community.
3. AIM & OBJECTIVES
3.1 Aim
The aim of Nurse Practitioner in Midwifery program is to prepare a cadre of NPMs who are confident and skilled in accordance to competencies prescribed by the ICM and the Council for providing high quality respectful, dignified, compassionate and evidence based midwifery care to woman, newborn and family and working autonomously with their full scope of practice, as per regulations of the Council/MoH&FW.
3.2 Objectives
The program will prepare the NPMs to
3.2.1 Facilitate a positive childbirth experience for women and their families, placing women at the center of care inclusive of psychosocial, spiritual and cultural background across community settings and within institutions contributing to natural childbirth providing humanized care to improve quality of care
3.2.2 Work in partnership with women, families and the other health care team to plan and provide the necessary support, care and advice during pregnancy, labour and the postpartum period up to six weeks
3.2.3 Advocate for ethical, compassionate respectful and culturally sensitive care in pregnancy, labour and childbirth, and post-partum, including promoting the woman's autonomy and rights to informed decision making
3.2.4 Contribute to reduction of over medicalization of maternity care and reduce impacts of socio-economic inequalities including hard to reach and tribal areas
3.2.5 Educate women individually or in groups to have knowledge about family planning, a healthier pregnancy including diet, nutrition, mother baby bonding, breastfeeding support, family integrity and optimal start to life to enhance health and disease prevention
3.2.6 To assume responsibility for her own decisions and actions as an autonomous primary maternity care practitioner and lifelong learner
3.2.7 Recognize abnormalities and complications and implement appropriate management and care, including managing emergency care and timely referral
3.2.8 Draw on research informed/evidence-based knowledge to be an effective problem solver and to think critically and reflect on practice
3.2.9 Work within the legal and professional boundaries by understanding their role within the broader health care profession and engage inter-professionally; with doctors, nurses, and other health care providers as part of a maternity care team
4. CURRICULUM – CONCEPTUAL MODEL
Midwifery Education recognizes that learning and continuing competency are lifelong pursuits thus this curriculum aims to facilitate a passion for learning through well-designed teaching and learning strategies aligned to evidence informed and contemporary midwifery knowledge and practice.
The conceptual model has been designed to reflect a holistic approach to midwifery education. Conceptually, it sets seven core values at the center of the curriculum, highlighting qualities that are central to provide a positive childbirth experience. Key approaches that inform contemporary midwifery practice are integrated throughout the curriculum, alongside maternity and newborn care priorities. The ICM Essential Competencies for Midwifery Practice and the Council educational and practice standards direct the course aims, objectives and content. The course delivery will incorporate evidence informed teaching and learning principles.
The values, integrated concepts, maternity care priorities, midwifery competencies, teaching and learning principles are informed by the Guidelines on Midwifery Services in India, Strengthening Quality Midwifery Education Framework for Action, The Framework for Quality Maternal and Newborn Care and Lancet Series on Midwifery, Council's Educational and practice standards, ICM Essential Competencies for Midwifery Practice and ICM Global Standards for Midwifery Education.
The curriculum conceptual model that informs the overall program design and course development is illustrated in Figure 1 below.
4.1 Curriculum Principles
4.1.1 Core values
The core values provide a foundation to develop midwives who are committed to promoting a positive childbirth experience for all women and were derived from core government, WHO and ICM documents. These values include:
(i) compassion, (ii) respect, (iii) woman, baby and family-centredness, (iv) equity and rights, (v) collaboration and team work, (vi) ethical practice, (vii) moral courage.
4.1.2 Integrated concepts
Within the curriculum there are seven concepts which represent key approaches that inform contemporary midwifery practice. These concepts include: (i) social inequities and midwives as primary health practitioners, (ii) evidence-based midwifery practice, (iii) cultural competence, (iv) quality maternity and newborn care, (v) continuity of midwifery care, (vi) midwifery as a relationship between a woman, baby, family and a midwife, (vii) optimizing physiological birth, (viii) community knowledge.
4.1.3 Maternity care priorities
The program provides a strong focus on identified maternity care needs and priorities which are addressed across the curriculum. They are: (i) improving maternity and newborn care for vulnerable and hard to reach women, (ii) reducing maternal and newborn maternity and morbidity, (iii) effective management of emergency care, (iv) human rights and gender-based violence, (v) strengthening midwifery-led care, (vi) humanizing and promoting natural childbirth.
4.1.4 ICM Essential competency standards for midwifery practice and Council's practice standards
The ICM (2019) competencies are grouped under four main categories. They are: (1) general competencies that apply to all aspects of midwifery practice and specific competencies that are specific to (2) pre-pregnancy and antenatal, (3) labour and birth, (4) ongoing care of woman and newborn. These competencies provide framework for the courses within the program. The Council practice standards guide midwifery practice and provide regulations.
4.1.5 Continued Professional Development
The quality of midwifery practice is achieved when the practice is led by autonomous role of NPMs. Continued professional development is essential for advancing and building the future of midwifery practice in India.
5. SCOPE OF PRACTICE
The Scope of Practice of a Midwife is combined with the ICM definition and sets out the boundaries of a
midwife's practice as adapted for NPM in India and is as follows:
The NPM is recognised as a responsible and accountable professional who works in partnership with women to give the necessary support, care and advice during pregnancy, labour and the postpartum period, to conduct births on the midwife's own responsibility and to provide care for the newborn and the infant.
This care includes preventative measures, the promotion of normal birth, the detection of complications in mother and child, the accessing of medical care or other appropriate assistance and the carrying out of emergency measures.
The NPM/midwife has an important task in health counselling and education, not only for the woman, but also within the family and the community. This work should involve antenatal education and preparation for parenthood and may extend to women's health, sexual or reproductive health and childcare.
NPM may practise autonomously in any setting including the home, community, hospitals, clinics or health units mostly in MLCUs that is envisaged by GoI.
The NPM will be able to perform full scope of practice as per education and training and Council's/ MoHFW regulations and guidelines.
6. COMPETENCIES
The Council adapted the International Confederation of Midwives (ICM) competencies for training of nurse practitioners in midwifery for India and the framework is given below:
The competencies are organized under 4 categories/domains.
COMPETENCY CATEGORY 1: GENERAL COMPETENCIES
NPMs demonstrate professional accountability as an autonomous practitioner in the delivery of midwifery care as per ICM standards adopted by the Council that are consistent with moral, altruistic and humanistic principles in midwifery practice.
Competencies:
1a. Assume responsibility for own decisions and actions as an autonomous practitioner
1b. Assume responsibility for self-care including personal safety and self-development as a midwife
1c. Appropriately delegate aspects of care and provide supervision
1d. Utilize research to inform practice
1e. Uphold the fundamental human rights of individuals when providing midwifery care
1f. Adhere to jurisdictional laws ethical, regulatory requirements, codes of conduct for midwifery practice
1g. Facilitate women to make individual choices about care
1h. Demonstrate effective interpersonal communication with women and families, health care teams,  and community groups
1i. Facilitate normal birth processes in institutional and community settings, including women's homes
1j. Assess the health status, screen for health risks, and promote general health and well-being of women and infants
1k. Prevent and treat common health problems related to reproduction and early life
1l. Recognize conditions outside midwifery scope of practice and refer appropriately
1m. Care for women who experience physical and sexual violence and abuse