Online Applications for JEE (Main) March, April & May-2021 (Session-2, 3 & 4): National Testing Agency
National Testing Agency
(An Autonomous Organization under the
Department of Higher Education, Ministry of Education,
Government of India)
PUBLIC NOTICE
March 02, 2021
Sub: Inviting online Applications for JEE (Main) March, April & May-2021 (Session-2, 3 & 4) – Reg.
In continuation of the Public Notice dated December 16, 2020, the NTA is now providing another opportunity to the candidates to apply for/withdraw from the (remaining) JEE (Main) – 2021 Sessions.
It is once again informed that March (Session-2) and April (Session-3) will be conducted only for Paper 1 (B.E./B.Tech).
The candidates wishing to appear again for Paper 2A (B.Arch) and 2B (B. Planning) will have the next opportunity to apply during the May session (Session-4) Application process.
Details of the available Sessions are as follows:
JEE(Main)-2021
Dates of Exam.
Online submission of Application Form
Last date for payment of the online fee
Downloading of e-Admit Card
Declaration of Result
Session-2 (March-2021) (B.E./B.Tech.) (Paper-1)
15, 16, 17, and 18 March 2021
2 March 2021 to 6 March 2021 (upto 6:00 pm)
6 March 2021 (upto 11.50 p.m.)
To be intimated later on
Session-3 (April-2021) (B.E./B.Tech.) (Paper-1)
27, 28, 29 & 30 April 2021
To be displayed on the NTA website in due course
Session-4 (May-2021) (B.E./B.Tech. and B.Arch./ B.Planning) (Paper-1, Paper-2A & Paper-2B)
24, 25, 26 27, and   28  May 2021
To be displayed on the NTA website in due course
Note: A candidate has the option to apply for one Session or more than one Session (March /April /May 2021) together and pay the exam fee accordingly. In other words, if a candidate wishes to apply only for one Session, he/she has to pay the Examination Fee only for that Session during the current application period and will have the opportunity to apply again for the remaining April / May Sessions.
The candidates who have applied earlier for March/April/May Session can modify their particulars (Session, Category, Subject, etc.) from 2 to 6 March 2021.
Due to limited time, there will be no correction window available after the Application Form closes on March 06, 2021 (6:00 pm). Therefore the candidates have to be extremely careful.
A candidate can also withdraw from March/April/May sessions by following the procedure detailed in the Application Form.   The candidates for Beharain who could not appear in the examination for Feb Session due to lockdown are being intimated separately by e-mail.
The Candidates are advised to keep visiting the official websites of NTA (www.nta.ac.in) and (jeemain.nta.nic.in) for the latest updates.
(Dr. Sadhana Parashar)
Sr. Director (Exam)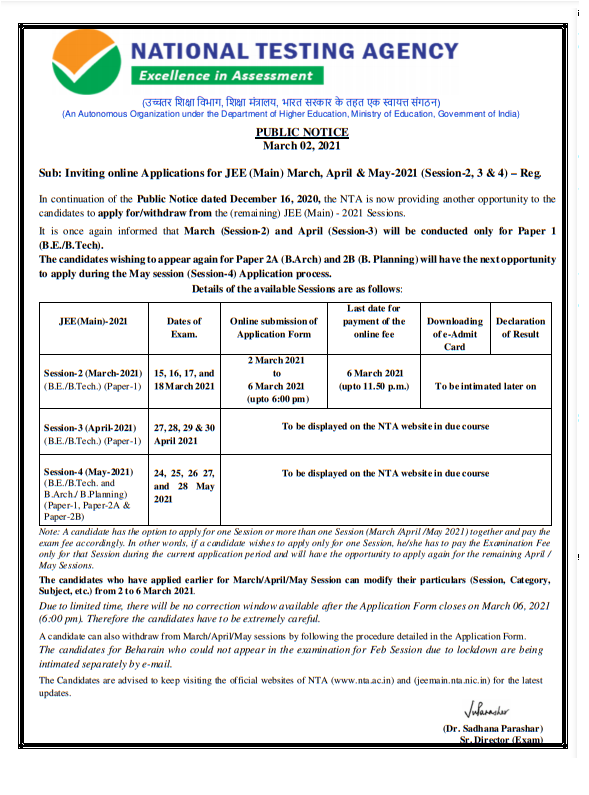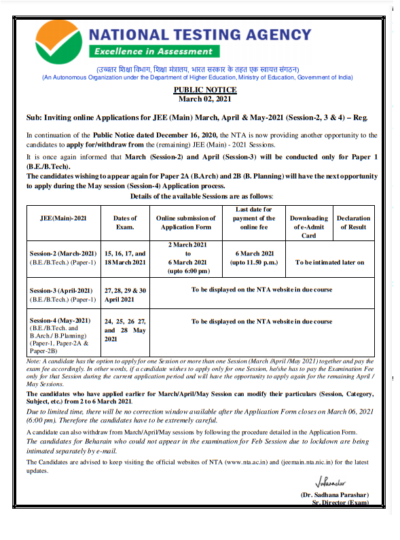 Source: National Testing Agency